Two familiar OS X applications get new names in Mountain Lion: Address Book becomes Contacts and iCal becomes Calendars. But the changes in both are deeper than altered names.
Contacts
In Contacts, Apple looks both back and forward. While that look back doesn't remove the not-entirely-popular leather-organizer look that was introduced with Lion, it does bring back a popular view. As for forward-looking features, it's all about incorporating contacts from a broad variety of sources and social networking.
Starting with the return of the old, Contacts brings back the beloved three-column view found in Snow Leopard's Address Book. In Lion, Address Book offered a two-column view—either groups on the left page and contacts within the second group on the right, or when clicking the Contacts bookmark at the top of the page, viewing contacts within a group on the left page and information about a selected contact on the right. Mountain Lion's Contacts places groups in the first column, contacts within the selected group in the middle column, and contact information in the last column—just as it was done in Snow Leopard. If you'd like you can switch between three-, two-, and one-column views by clicking the appropriate buttons at the bottom of the Contacts window or by choosing Groups, List and Card, or Card Only from the View menu respectively.
Mountain Lion's Contacts addresses an issue that's confounded users for years—you have contacts scattered across a variety of services including iCloud, Yahoo, and Google and they sometimes appear as separate contact entries. The new version of Contacts presents a unified view that incorporates contact information from multiple sources into a single contact. So if you've stored Sally Jones' street address in iCloud, her phone number on Yahoo, and her email addresses in your Google contacts, Contacts should create a single entry that includes all this information.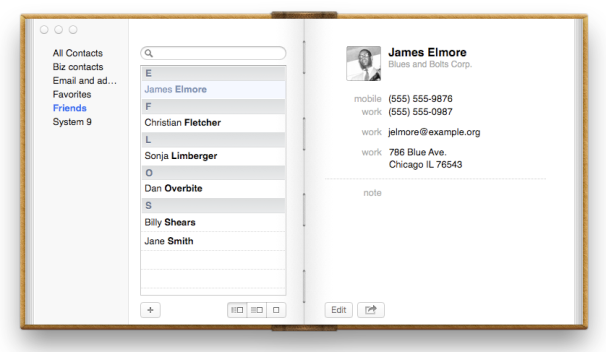 If you have a couple of contacts for the same person that differ in a way that causes Contacts to not recognize them as the same contact, you can combine them. Just select one, press the Command key and select the other, and from the Card menu choose Merge and Link Selected Cards. The two cards will become one. When you examine this card you'll see a new Linked Cards entry which indicates the accounts and names the information was pulled from—Yahoo and iCloud, for instance, using the names Chris Breen and Christopher Breen.
Finally, Contacts expands the talents of a contact's Share button. Under Lion, if you selected a contact and then clicked on the Share button at the bottom of the window, Mail would open and create an unaddressed email message with the contact attached as a vCard file. Click the Share button in Contacts and in addition to Email Card you have two more choices—Message Card and AirDrop Card.
When you choose Message Card, a new message window appears with the card embedded as a vCard file. Just address the message and click the Send button to send it. AirDrop Card works similarly. Select it and an AirDrop window appears along with the embedded vCard. Anyone on your local network who has their AirDrop window open can receive the card. Just select a recipient and press the Send button.
Calendar
Like Contacts, Calendar offers a combination of a retired-but-returned feature as well as new capabilities.
The old-is-new-again feature is the return of a Calendars pane. Within Lion's iCal you could choose calendars only by clicking on a Calendars button and picking a particular calendar from a list. This was generally an ill-favored feature so Apple brings a separate Calendars pane to Calendar, as was done in Snow Leopard. Simply click the Calendars button in the top-left portion of the screen to show and hide this pane.
Calendar introduces search suggestions. Similar to Spotlight, when you type a term into Calendar's Search field matching (or nearly matching) events appear in a list. For example, enter "Dentist" and you may find "Dentist Appointment" or simply "Dentist." Choose a suggestion and any matching events appear in a list of results on the right of the screen. You can search for words that occur in an event's title, words within an event's notes, location, or invitees attached to events.
Calendars includes a mini-calendar display in Edit and Inspector windows. To employ it, simply click on a date within this window and the mini-calendar appears. Choose a different date on the calendar and your event shifts to that date. You can additionally change end times for events more easily. Click on the ending time for an event and a menu appears that lets you shift that time back half an hour (from 3:00 PM to 2:30 PM, for example) or forward, in half hour increments, up to three hours after the beginning of the event.
Given how fiddly the Information and Edit windows can be, any opportunity to click rather than click and type is welcome.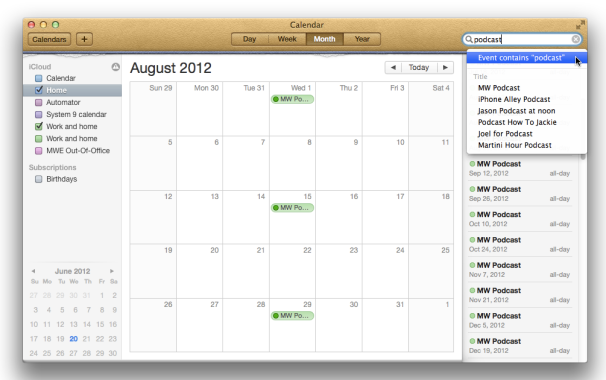 Finally in addition to throwing up an alert when an event alarm goes off, Calendar alerts appear in Mountain Lion's Notification Center. If you've chosen to show events in Notification Center (you can turn this option off in the Notifications system preference) you can't remove calendar events by clicking an X next to an application heading as you can with other applications. Calendar events remain in Notification Center until they've expired.
As with other items that work with notifications, you can configure how event alerts behave in the Notifications system preference. By default, calendar events will appear as alerts that you must acknowledge. If you prefer a banner that flashes and then disappears, choose that option in the Notifications preference.