Editor's note: The following review is part of Macworld's GemFest 2012 series. Every weekday from mid June through mid August, the Macworld staff will use the Mac Gems blog to briefly cover a favorite free or low-cost program.
Sleep Monitor is a utility that tracks your Mac's sleep and battery cycles. While several similar battery-tracking apps exist in the Mac App Store, few offer Sleep Monitor's visual graph, which is the most important feature of the app.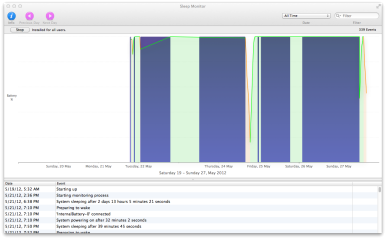 The app tracks when your Mac goes to sleep and wakes up, as well as how long it remains in both states. It also tracks your battery levels, including how long it takes the battery to fully charge and drain. Sleep Monitor tracks usage on a daily basis, but can only be viewed as hour-by-hour. It does, however, include the options to show weekly, monthly, or all-time statistics.
One of the most interesting things I learned in testing Sleep Monitor is how quickly my MacBook battery recharges when my Mac is asleep. The app's blue boxes indicate times when my Mac was asleep, and the white boxes indicate times when my Mac was awake. The green line represents a charging battery (or A/C power), and the orange line represents a de-charging battery. The chart provides a clear visual aid that shows how and when your Mac uses its battery. The steady gain and decline of the battery represents a healthy battery, and one that performs as it should (given my MacBook's age).
If you'd just like to learn more your Mac's battery cycles, Sleep Monitor is an interesting utility that sheds some light on a small, but critical, aspect of your Mac's inner workings.