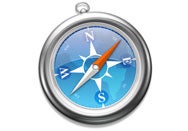 Apple's latest version of its native web browser—Safari 6—debuted on Wednesday as part of Mountain Lion. It's available for Lion users, too. But one set of folks won't ever be able to upgrade their copies of Safari past version number five: Windows users.
An Apple spokesperson confirmed this to Macworld. "Safari 6 is available for Mountain Lion and Lion. Safari 5 continues to be available for Windows," she said. Specifically, the final version of Safari available for Windows users is Safari 5.1.7. That means Windows users can't get access to features like Safari's unified URL and Search bar, iCloud Tabs, or Tab Views.
Though Apple's statement doesn't explicitly say that Safari 6 will never be available for Windows users, we don't suggest Ballmer fans hold their breath: While Safari remains the dominant browser for Mac users, its market share on the Windows side has never managed to eke above a blip.
Windows users may only start longing for Safari 6 when iOS 6 launches; that's when iCloud Tabs will become especially useful, syncing websites between the mobile and desktop versions of Safari.
As a reminder, Safari 5.1.7 works on any PC running Windows XP SP2, Windows Vista, or Windows 7.