Editor's note: The following review is part of Macworld's GemFest 2012 series. Every weekday from mid June through mid August, the Macworld staff will use the Mac Gems blog to briefly cover a favorite free or low-cost program.
Every day, I "like" posts on Facebook, bookmark articles in Instapaper, "favorite" tweets on Twitter, and save videos on YouTube. But sometimes I forget where I first saw an interesting story or link. Favs ( Mac App Store link) is a Mac app that integrates into social sites and brings your favorites together into one sleek, comprehensive package.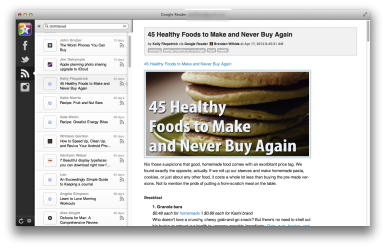 Favs works with several social services: Facebook, Twitter, YouTube, Instapaper, Delicious, Google Reader, Instagram, Pinboard, and Vimeo, to name a few. Just log in to the sites that you'd like to add, and authorize Favs to access your data. Favs loads your favorites from each approved site and separates them by source in the app's main window.
Switching between sources displays each favored item in a large window to the right of the screen. When reviewing your saved Instapaper and Google Reader pages, this window view works well, but other sites—like Facebook—require a lot of scrolling on default settings. Favs includes a "fit preview" option to fit a site within the preview window, but this made skimming an article difficult due to the small font size.
Favs' Facebook integration was my only source of frustration during testing. Despite authorizing the app, many Facebook favorites lead to a Facebook error message (although this may have more to do with Facebook's involute privacy settings than Favs itself).
Favs contains a powerful search function, which makes finding content easy. For example, the app retains tags with blog posts, so a keyword search includes tags in addition to the text itself. Search worked well in testing and was perhaps the standout feature in an already impressive app.
As we flock to the latest and greatest social sites, we have to keep tabs on increasingly more content across the web. Favs makes sense of the deluge of content by organizing everything into a more manageable state.