At a Glance
Expert's Rating
Pros
Encrypted Google searches
Terrific set of developer tools
Support for fullscreen mode
Cons
Not especially different from last year's version
Our Verdict
Last year, Macworld checked in with Mozilla's Firefox 5. Since then, an accelerated release cycle has rocketed the popular open-source browser nine full version numbers ahead. While its developers have bundled in several welcome improvements in that time, anyone using Firefox 14 won't find too many new features, unless you happen to be a Web developer.
Bring on the newness
Like many of its recent updates, Firefox 14 bundles in just a handful of new features. Most notably, it now submits all Google searches securely via HTTPS, whether through the "awesome bar," the search bar, or by right-clicking on selected text. This purportedly keeps any third parties between you and Google from seeing what you're searching for—a handy tool for those using Firefox in less democratic regions.
Having previously added Mac OS gesture support (albeit without Safari's slick graphical flair), Firefox 14 now fully embraces Lion's Fullscreen mode. If you care to dive into the program's configuration files, you can also tell the browser not to load Flash or any other plugins unless you first click to authorize them—an ability previously only available through third-party extensions.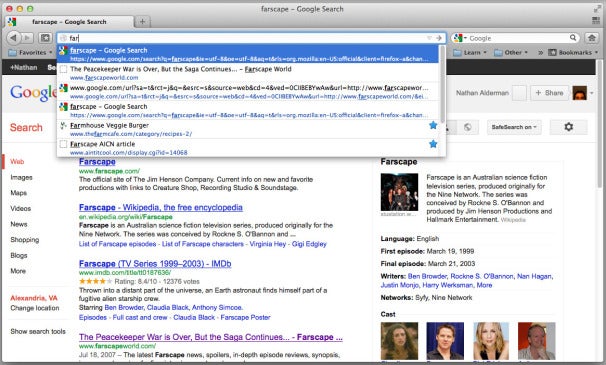 Other features added since our previous review include one reminiscent of Opera's Speed Dial or Safari's Top Sites. Firefox now displays a grid of previously visited pages whenever you open a new tab. However, unlike those other browsers, Firefox doesn't display graphical previews of the pages. And if you don't do much browsing with Firefox, you won't find the pages it chooses by default particularly useful.
Beneath its surface, Firefox has admirably bulked up its support for CSS transformations and WebGL 3D graphics. Some, though not all, demos of 3-D CSS transformations worked well in Firefox 14, and WebGL sites ran smoothly. Unfortunately, despite recent indications that Firefox had warmed to the idea of incorporating H.264 video support (like Safari does), version 14 still only supports the rival WebM format for HTML5 video.
Developers' paradise
If I've sounded nonplussed thus far, I need to give Firefox abundant credit for its suite of tools for Web developers. It's by far the best I've seen in any browser, both in its breadth and its visual style.
Most browsers now let you check for errors after you've loaded a page, and inspect the code of each element. But Firefox's Inspect tool does so downright beautifully, with slick, smoothly animated visuals that help you clearly track what you're looking at, and where it nests in a page's code. Firefox bolsters that with a dedicated CSS style editor and a JavaScript scratchpad, where you can test out new scripts on the fly.
They may not replace a dedicated Web design tool, but Firefox's suite of coder-friendly features definitely go the extra mile.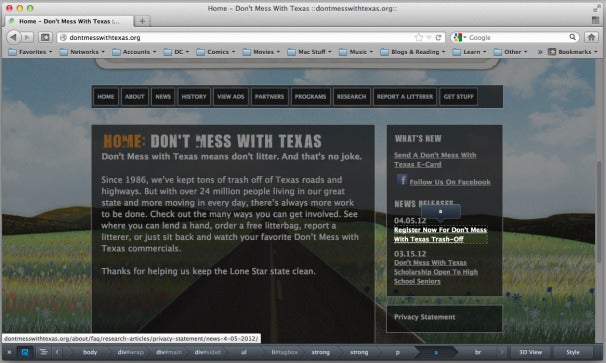 Keeping up with the Chromeses
With one unfortunate exception, Firefox's engineers have ensured that their browser stays current with its rivals' ever-accelerating performance. But don't come to Firefox 14 expecting the biggest, baddest browser around. Though version 14 feels fast and fluid in regular use, benchmark tests place it squarely in the middle of the pack.
On a 2GHz aluminum MacBook with 2GB RAM and Mac OS Lion, I tested Firefox 14 against Safari 5.1.7, Opera 12, Chrome 20, and its own predecessor, Firefox 13. The browsers competed in HTML5 tests from GuiMark 2, the Acid3 Web standards evaluation, the SunSpider JavaScript benchmark, and a test of compatibility with HTML5 standards.
HTML5 graphics weren't Firefox 14's forte. The browser scored dead last by wide margins in both vector and bitmap graphics performance, running the test suite's demos at woefully puny frame rates. It perked up considerably when manipulating HTML5 text, but still finished a very close third after Opera and Safari.
Firefox also took the bronze medal in JavaScript performance, trailing Safari and Chrome by a scant 15 milliseconds. But it joined Chrome in slightly flubbing the Acid3 test, scoring 97 out of a possible 100, and surpassed only Safari with the third-lowest score for HTML5 standards compliance. Speed- and performance-wise, it ranked little if any different than its previous version in any of the tests.
Benchmarks: Firefox 14
| Browser | SunSpider | Acid3 | HTML5 Vector | HTML5 Bitmap | HTML5 Text | HTML5 Compliance |
| --- | --- | --- | --- | --- | --- | --- |
| Firefox 14.0.1 | 338.8 | 97 | 2.86 | 13.65 | 19.29 | 345/9 bonus |
| Firefox 13.0.1 | 341.9 | 97 | 2.80 | 13.63 | 19.09 | 345/9 bonus |
| Opera 12 | 393.3 | 100 | 25.22 | 55.98 | 20.17 | 400/9 bonus |
| Chrome 20 | 324.6 | 97 | 13.94 | 24.04 | 16.24 | 414/13 bonus |
| Safari 5.1.7 | 323.8 | 100 | 31.80 | 54.54 | 19.90 | 334/11 bonus |
Macworld's buying advice
While I'm glad to see Firefox, like Chrome, nimbly fixing bugs and rolling in new features, it still seems silly to award each new bundle of minor updates with a whole new version number. And, like it has for years now, Firefox still seems more interested in testing out new bells and whistles than smoking its rivals with raw speed and power.
Still, I very much liked Firefox 4, on which the new version's still based, and I find version 14 just as friendly, fleet-footed, and easy to use. It lands pleasantly between Safari's slick design sense and Chrome's quickness. Anyone not enamored with either of those browsers should definitely give Firefox a try.
[Nathan Alderman is a writer, copy editor, and difficult person to impress in Alexandria, Va.]