At a Glance
Expert's Rating
Pros
Powerful 3D package visualization
Attractive pricing
Vast type and object effects
Cons
Visualizer works best with modern graphics cards
Our Verdict
TypeStyler's last major upgrade was in 2009, and it was huge. The recent update to version 11 doesn't add as many fantastic new features, but the price was lowered by two-thirds—from $180 to $60. This combination of new features and lower price makes this upgrade "major" as well.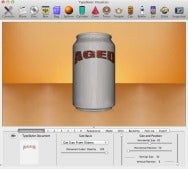 TypeStyler entered the typographical scene more than 20 years ago as an easy way to twist and distort type while maintaining its editability—and today it's still an excellent tool for creating eye-catching text effects for logos, headlines, and packaging. In addition, TypeStyler has object-drawing and page-layout capabilities, making it a capable tool for single-page layouts such as flyers, ads, and invitations.
TypeStyler also includes powerful tools for mocking up 3D packaging designs: You can wrap any image or design onto a plane, disc, box, bag, sphere, cylinder, cone, torus (doughnut), teapot, can, bottle, or jar. Then rotate the object in 3D space and take snapshots—with or without impressive backdrops that include a bronze floor, theater stage, red nebula, and sunsets. You can also adjust the object's surface texture and opacity. When you're satisfied, print directly from within TypeStyler or export your design as a print-ready PDF. You can even export it as a layered Photoshop or Illustrator file.
And if that's not enough, TypeStyler can export a movie of your object spinning in space, with adjustable lighting, and apply a second video onto the spinning object! If you create presentations or DVDs, this feature alone makes TypeStyler worthwhile. But keep in mind, the 3D Visualizer—which is a totally optional tool—works best with modern, high-powered graphics cards, like those found on the latest Macs.
Version 11 adds seven customizable Grunge styles you can use as-is, or as a starting point for your own vision of how you'd like to age your design. Styles include Tattered, Crackle, Scratched, Distressed, Eroded, Old Leather, and Old Photo. These augment the dozens of styles previously included, and the more than 100 pre-built designs you can use as starting points for your own logos, headlines, and type effects.
As in previous versions, you can paste a photo or other image into text or inside a graphic shape. Version 11 now lets you adjust the crop and position of the picture, which saves steps during the design process.
Sharing your designs is now much easier with the new Share feature, which connects directly to Facebook and Flickr. The Share icon lets you quickly attach your design to an email message or add it to your iPhoto library.
One major complaint I had with the previous version of TypeStyler was its lack of documentation. This shortcoming has been addressed by the inclusion of a comprehensive Help system, available under the Help menu, as well as on Strider's website. Along with explanations of TypeStyler's functions, it includes videos as well as step-by-step tutorials for each feature.
Macworld's buying advice
While the new grunge styles, social media export capabilities, and tutorial/help systems are welcome improvements, it's the combination of those features with the dramatically lower price that gives Strider Software's TypeStyler 11 the highest value of any release so far. At just $60, its 3D animation technology, package mockup features, typography and object manipulation flexibility, and wide variety of customizable presets make this a valuable addition to the toolkit of any designer, teacher, presenter, student, or video enthusiast.
[Jay J. Nelson is the editor and publisher of Design Tools Monthly, an executive summary of graphic design news.]