This week's roundup of new iOS accessories includes our first hint that iPhones will lead the forthcoming robot uprising. Read on for the gear that caught our eye this week.
CableJive: The $29 ProJive XLR is an adapter that lets you connect XLR microphones and mixing boards to your iPad or iPhone for recording high-quality audio. It comes with a four-foot-long cable and plugs directly into your iOS device without the need for an accompanying app—you just open an app such as GarageBand and start recording. The adapter also includes a stereo audio-out jack, so you can connect your headphones to hear the music you're making while they're making it.
Croon Audio: The $200 Original speaker plays music wirelessly from your iPhone or iPad using a Bluetooth connection. It's small—just 10.5 inches wide—and enclosed in medium-density, black-gloss-finish fiber wood designed for clear sound. If you want to drop a little extra money for style reasons, you can pony up $230 for white or grey, or $235 for a limited-edition "Lady in Red" version.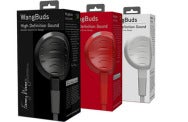 Fanny Wang: Fanny Wang's $80 Wang Buds come in white, black, or red; provide higher-quality audio than your iOS device's stock earbuds; and feature soft-silicone tips for maximum listening comfort. Wang Buds now come with an inline remote and microphone, so you can easily control your music and make phone calls while you're on the go.
Loop Attachment: The $20 Loop Nano converts your recent-generation iPod nano into a wristwatch. The one-piece silicone band slips over your hand and prominently displays your device, letting you tell time or have quick and easy access to your music. The Loop Nano comes in seven different colors; if you're interested in mixing and matching with your latest clothing, you can always buy a bundle of three for $50.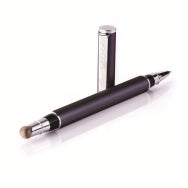 LynkTec: If you've been searching for a stylus that gives the appearance of a top-notch executive pen, the $40 TruGlide Duo Stylus Pen just might be what you're looking for. It's a brass-barreled stylus with a microfiber tip for using on your iOS touchscreen, but it also contains a ball-point pen for taking notes on paper. (Users can buy Parker pen refills to keep the pen supplied with ink.) The stylus tip is at one end, the pen at the other, and it comes with a cap to keep the pen's ink from drying out.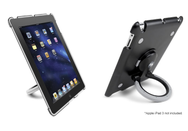 NewerTech: Whether you want to hold your iPad comfortably or display it in hands-free fashion, the $30 NuGuard GripStand 3 will serve your purposes. Designed for the newest generation of iPad, it comes with a hard-plastic shell to protect the back of the tablet, plus a detachable grip that can be used either as a kickstand or for ergonomic hands-on use of the iOS device. The GripStand can also be used to hang the iPad from a hook, and it includes a nylon strap you can use to fasten your tablet to a vehicle headrest.
Romotive: Remember Roomba? Well, the iPhone version is the $150 Romotive, a tank-tracked robot that features your iOS device as the centerpiece. You can let the robot wander around your house on its own, or you can wirelessly control it using another "smart" device, including your iPad or Mac. The creators are inviting developers to contribute new features to its Romo app, which means your iPhone will probably be leading the robot uprising any day now.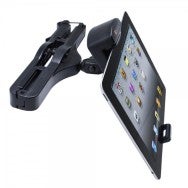 Satechi: Getting ready for a long car ride with the kids? Satechi's $40 Headrest Mount for 7″-10″ Tablets fits your iPad and other tablets, letting you use the tablet as a viewing screen for shows, games, and other hands-free entertainment while you're on the road. The holder connects to a car-seat headrest, and it rotates 360 degrees, letting you display the tablet in portrait or landscape orientation, as well as up or down, so the screen is in prime viewing position for both adult and child passengers. Check our this video for a demonstration of the mount at work.
USBFever: The $18 3-in-1 Stylus feels a little bit like a James Bond toy: It's not just a stylus for use on the touchscreen of an iPad or an iPhone; it's also a ballpoint pen; and it's also a laser pointer. Also new from USBFever is the $7 USB splitter hub, which lets you charge two iOS devices from one electrical socket. The hub comes in white or black.
iPhone 4S family
Price When Reviewed:
$599
iPad (third generation) family