Amazon Prime customers with iPads can rejoice—they won't have to buy a Kindle Fire in order to enjoy the company's Instant Video service on a tablet.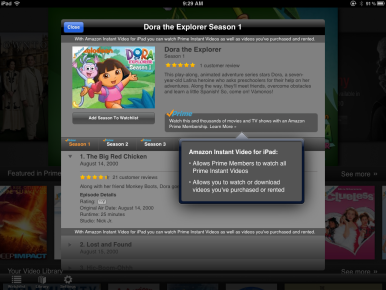 The Amazon Instant Video app for iPad launched Wednesday morning, and acts as a sort of hybrid between Netflix and the iPad's native iTunes video store. Like Netflix, customers of the $79-a-year Amazon Prime service have a library of videos that they can access at any time; and like iTunes, the service also offers a vast store of à la carte movies and TV shows—up to 120,000 videos in all, and many of them new, fresh-from-the-theater releases—that can be instantly streamed or downloaded for later offline viewing. But there is a catch.
Amazon's Kindle app for iOS long ago removed all store links rather than give Apple a 30 percent cut of in-app purchases; likewise, you can't buy or rent new videos or subscribe to the Prime service directly from the new Amazon Instant Video app, or even search for available videos. Instead, you'll have to have to conduct such transactions directly through your browser, either on the tablet or on your desktop computer, then shift over to the app for viewing. That's an added step that makes the movie-buying process somewhat less seamless than using the iPad's native iTunes store. (If you're not already an Amazon Prime customer, the app provides a number of visual hints enticing you to be—how else to watch Downton Abbey?—but without telling you specifically how.)
The app has several other features: Watchlist lets users queue up individual movies or whole TV seasons that they wish to view; the list is available in the cloud, so you can add a movie on your iPad and then check and adjust the list when you move to your computer.
And if you do own or have rented a video from the service, it shows up in the Library section of the app. From there, you can watch a trailer for the movie, choose to watch now over Wi-Fi, download for later offline viewing, or add to your Watchlist. Although the app does let you stream audio to an Apple TV, it does not support video over AirPlay.
The launch of the Amazon Instant Video app comes during a week of increasing video availability for Apple's customers; on Tuesday, Hulu Plus was added as an option for Apple TV. Wednesday's news signals, too, that even though the Kindle Fire provided one of the first legitimate challengers to the iPad in the tablet market, Apple's lead is still big enough that Amazon doesn't want to forgo that sizable customer base by limiting its video service to its own device.
The app is free, and compatible with any iPad running iOS 4.3 or later.
Updated at 7:36 PT to add information about AirPlay support.