Editor's note: The following review is part of Macworld's GemFest 2012 series. Every weekday from mid June through mid August, the Macworld staff will use the Mac Gems blog to briefly cover a favorite free or low-cost program.
The original Comic Life made a splash with its Mac debut seven years ago, by taking a specific task—turning your photos into comic book-style layouts—and perfectly balancing ease of use with a sense of fun. The follow-up from developer Plasq continues that fine tradition while adding some welcome features to the mix.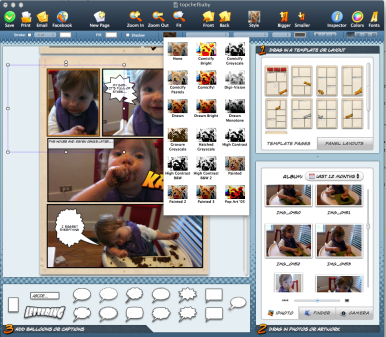 Previous users will feel right at home in Comic Life 2 ( Mac App Store link). So will newcomers to this specialized image editing application. That's a testament to how easy it is to get started with the app, as well as how simple Plasq makes it to discover Comic Life 2's many tools.
Getting started with Comic Life 2 is as simple as choosing a template—the application supplies 25 different themes, along with a couple of blank templates if you'd prefer to forge your own path. Comic Life's main window includes a photo picker that makes it easy to drag images out of your iPhoto library or track them down through the Finder; a Camera option even lets you snap pictures with your Mac's built-in-camera for photos on the fly. From there, it's simply a matter of dragging in different speech bubbles and stylized text to give your final project the look you desire.
There's an incredible amount of depth in those tools as well. Add a speech bubble or thought balloon, and you can manipulate the size of the balloon, where it appears in your picture, and even the swoop and angle of the bubbles and lines leading from the speech bubble to the person's mouth. You can alter the size and font of the text within the bubble—Comic Life offers a host of comic-friendly fonts—and you can bend and twist free-floating lettering to your liking. You can even add filters to your photos to give them a distinctive look as well. There's plenty to explore and the effects are so easy to adjust, even an artistically-challenged person like myself can whip up a pretty decent layout.
Comic Life 2 is a great app for parents, providing a fun way to liven up all those pictures of the kids you've shot.