MusicDNA ID is a free music ID app by Bach Technology. Unlike some of the more well known apps in this category, MusicDNA ID has a very limited set of features. Ordinarily, I wouldn't classify that as a criticism because, as a software designer, I believe that any good software should focus on a small number of features and do them extremely well. MusicDNA ID certainly fulfills the first principle, but I think it could do a better job delivering on the last.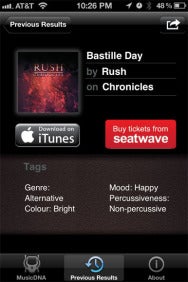 You begin by tapping a large icon to tell the app to begin listening to a song playing over the air. It then comes back with its results which include the song's title, artist, album, and album art. It also displays the quality of that song in categories like genre, color, mood and percussiveness. If the song is available on iTunes, then the app provides a purchase link and will also provide a ticket-purchase link—presumably if that artist is on tour. MusicDNA ID provides no song lyrics nor any of the music discovery tools found in competing apps. It also lacks any sharing options other than email, wherein it provides an iTunes link and a short preview attached as .wav file.
I found that the app can correctly identify a song in about 15 to 20 seconds in a quiet room, which is fairly slow in comparison to its competitors. Performance in noisy environments was disappointing with the app rarely returning any results. (Of course, your results may be slightly different.) I found that its accuracy with the song and artist was good, but album recognition was not always correct, with the app oftentimes getting the album name correct but sometimes supplying the wrong album art.
See how MusicDNA ID compares to other music identification apps for iOS
I also take issue with some of the categories it applies to songs you've identified. For example, the app describes the song Bastille Day, by Rush this way:
Genre: Alternative (sorry, it's clearly a rock song)
Color: Bright (I might agree with that one)
Percussiveness: Non-percussive ( Neal Peart would likely take issue with that assessment)
Mood: Happy (not unless you're an 18th-century French peasant)
A Previous Results link takes you to a list of the songs you've identified before. The app is universal, so it also runs on the iPad with an interface optimized for the larger display. This allows the Previous Results list to always be visible, but the rest of the app doesn't really benefit from the extra display space since there's not much information begin provided.
In short, MusicDNA ID is less than impressive. It identifies songs slowly, its performance is deficient in noisy environments and it provides very little music information. Considering that there are other free music ID apps available with more features and better performance, I have a hard time recommending MusicDNA ID.
[Brian Beam is a software designer and partner with web development firm BOLD Internet Solutions, living somewhere near Kansas City.]