The free app Hound, by SoundHound is a different sort of music search app. Unlike its big brother, the $7 SoundHound ∞, Hound doesn't search for music by listening to sound (hence the play on words in the app's name). Instead, you speak a song title or artist's name into your device and then the app searches its database and returns the result.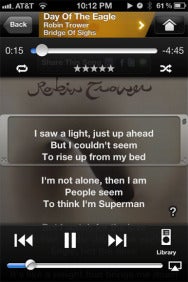 Overall, Hound's results are very accurate, provided you speak clearly. Like SoundHound ∞, Hound returns a huge amount of data, including album info and cover art, band info, lyrics, links to iTunes and YouTube videos, and so on. Social butterflies can also post the songs they've identified via email, text message, Facebook and Twitter.
Hound also includes a complete music player that can access your music library. When you have a song queued up in Hound's player, the app provides all the same information described before, often including lyrics that scroll in time to the music. Oddly, though, the music player always seems to be in "album mode" no matter how you may be viewing your music library. For example, if you select a track from an alphabetical listing of all the songs on your device, when that song ends, instead of progressing to the next song in the list, Hound jumps to the next song within the same album. Additionally, there seems to be a drop in fidelity when Hound's music player is active. Hopefully these issues will be addressed in a future version.
See how Hound compares to other music identification apps for iOS
Quirky music player issues aside, Hound's voice-based search function works well and the app provides an impressive amount of music info and sharing options. But one question looms in my mind. Since the free version of SoundHound includes all of Hound's features, and more—including a music player that works logically—what's the benefit of using Hound over SoundHound? I haven't quite figured that one out yet.
[Brian Beam is a software designer and partner with web development firm BOLD Internet Solutions, living somewhere near Kansas City.]