The $7 SoundHound ∞ by SoundHound is one the pioneers in the category of name-that-tune apps to appear in the iOS App Store. For the uninitiated, this type of app can listen to ambient music and identify the song title and artist. In the years since its introduction, SoundHound ∞ has changed considerably as the developer has added more and more features.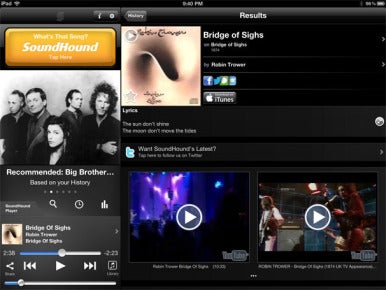 The app's original claim to fame—ambient music identification—remains its mainstay. Upon launching Soundhound ∞, one tap on a big orange button begins the process of listening to the music playing around you. (An optional setting tells the app to start listening as soon as you open it.) In a few seconds, the app returns its best guess, and it's usually correct.
See how Soundhound ∞ compares to other music identification apps
In a quiet room with music playing at an average volume, SoundHound ∞ was able to identify tracks on the first try in a speedy 5 to 8 seconds, and it performed nearly that well in noisy environments. (Your mileage may vary, of course.) If you prefer, you can also type or speak a song title, artist name, album title or lyric snippet. You can even hum or sing into your device where, of course, you can expect more varied results (and odd stares if you do this in public). Music identification happens on SoundHound's servers, but if you're in an area without Wi-Fi or cellular service, you can still tag songs and save them to your history to be identified later.
Once SoundHound ∞ has identified a song, it blasts you with a firehose of information including the song title, artist name, album info (name, cover art, additional tracks), an iTunes link, artist bio, tour dates, related songs, and so forth. Pandora and Spotify users can use songs tagged in SoundHound ∞ to locate similar music in those services. The app also displays lyrics when they're available and will oftentimes scroll them in sync with the music.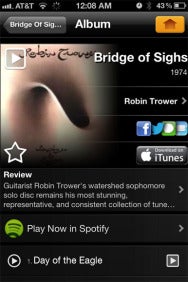 If you want to announce the songs you've identified to all your friends, you can do so via email, text message, Facebook, Twitter, with an option to post automatically to the latter two services. You can also view songs most frequently identified by other users of the app, most tweeted tracks and other social-based data.
SoundHound ∞ also provides a full-fledged music player that can play songs on your device and provide all of these same features for those tracks, including song/album/artist info, sharing links, scrolling lyrics ,and the like.
If you have SoundHound ∞ installed on multiple devices, you can keep your song search history synced among all your devices by enabling iCloud syncing. That lets you quickly return to songs that you've already bookmarked.
SoundHound ∞ is a universal app, meaning that it runs on both the iPhone and iPad with an optimized display for each size screen. With the sheer amount of information the app provides, I thought that the iPad would be the preferred device to use, but I find the iPhone version actually easier to navigate since some of the features are tucked away and not constantly in my face. As a software designer, I'm all too familiar with needing to balance features and usability, so I would urge the developers to look at simplifying the user interface on both devices, even if that means sacrificing some features.
For those of you who may be put off by the $7 price of SoundHound ∞, there's an ad-supported free version called just SoundHound (without the ∞ symbol). Aside from the banner ads, I can find little difference between the two versions and the developer's website is equally as vague on the subject. If you want to learn more, there are several videos outlining SoundHound's features available there.
[Brian Beam is a musician, software designer and partner with web development firm BOLD Internet Solutions, living somewhere near Kansas City.]