When Apple finally opened up the iPhone to third-party apps in 2008, some of the earliest ones I downloaded were music identification apps. These apps can listen to ambient music and identify the song title and artist as well as provide other relevant info. Things have come a long way since then; more apps have joined the party and many of them have added tons of features. So with all the choices available in music ID apps, how can someone choose the best one? In my opinion, there are quite a few criteria to consider, but I think there are three important measures to consider.
Speed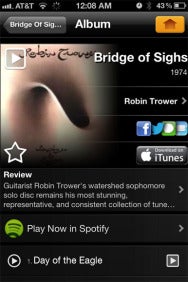 As luck seems to have it, when I want to identify a song, it's either close to the song's end or I'm at the supermarket where the music is constantly being interrupted by announcements. So I think it's important that an app launches quickly, starts listening immediately and can name that tune within seconds. In my semi-scientific tests, Shazam Encore ($6, Shazam Entertainment) identified songs in the range of 2 to 10 seconds. SoundHound ∞ ($7, SoundHound) had a slightly slower average speed, but was more consistent with a 5-to-8 second range. MusicID with Lyrics ($1, Gravity Mobile) was the next in line with an average 13-second time, ranging anywhere from 6 to 20 seconds. At the bottom of the pack was MusicDNA ID (free, Bach Technology) with a range of 15 to 20 seconds. (Of course, your results may vary.)
(Note: I decided against rating the free Hound, also from SoundHound, in the top three categories because it's the only app in this group that doesn't listen to music. Instead, you speak the song title or artist's name and the app conducts the appropriate search. As a matter of comparison, though, it returned results to spoken queries in a fairly consistent 6-to-9 second range.)
Tenacity
It always seems like I'm in a noisy environment whenever I want to ID a song, so I think the ability to filter out extraneous noise is important. Using a busy restaurant and a gym as testing grounds, SoundHound ∞ narrowly beat Shazam Encore for this title, with both returning results the majority of the time (but sometimes requiring two attempts). MusicID with Lyrics and MusicDNA ID rarely returned any results at all, no matter how many attempts I made.
Accuracy
Of course, you want an app that can identify the song title, artist and the album correctly. In most tests, every app seemed to do an acceptable job of identifying the song title and the artist but, in cases where there were multiple versions of a song, hitting on the correct album was another story. For example, only one of the apps I tested came close to correctly identifying the live version of Rush's Bastille Day that appears on the album Different Stages. All got the song title correct but Shazam Encore and SoundHound ∞ put it on Caress of Steel, which isn't a bad guess since that's the original album, while MusicID with Lyrics put the song on the compilation album Chronicles. To its credit, MusicDNA ID did name the correct album, but then displayed the wrong album art. In this case, although MusicDNA ID did get half of the album info correct, I feel that SoundHound ∞ wins this category because it provides a list of all the albums where an identified song appears.
Preliminary Results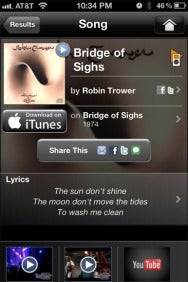 Based on these three criteria, I feel that SoundHound ∞ provides the fastest and most reliable results, with Shazam Encore very close behind. MusicID with Lyrics and MusicDNA ID came in a distant third and fourth, respectively, primarily due to their poor performance in noisy environments.
In addition, depending on where your interests lie, the following features might also be important to you.
Depth: All the apps vary in the amount of information they provide, but none of them come close to the massive amount of data that SoundHound ∞ produces (although I think it could be presented more succinctly). Not surprising, its cousin, Hound, comes in a close second while Shazam Encore provides a nice, well organized balance of useful information. MusicID with Lyrics is less complete and MusicDNA ID provides little beyond the song title, artist and album.
Discovery: These days, one can discover new music via apps like Pandora and Spotify by keying into songs that other users of those services are listening to. Similarly, with a large number of people using these apps to identify music that's playing around them, their developers have a wealth of data coming into their servers, which could be interesting when analyzed and fed back to their users. No question, SoundHound ∞ is the undisputed king of music discovery by providing such trends in a multitude of categories in addition to providing links to Pandora and Spotify. Shazam Encore also links to those services and, along with MusicID with Lyrics, provides related songs and some limited popularity trends. Hound provides a list of similar artists, while MusicDNA provides nothing beyond iTunes and concert links.
Sharing: For those who want to post songs they've identified to Twitter or Facebook, SoundHound, Hound and Shazam all provide that capability, but I give Shazam the edge here since it also lets users of the app follow one another. MusicID with Lyrics and MusicDNA trail the pack by providing only email-based sharing.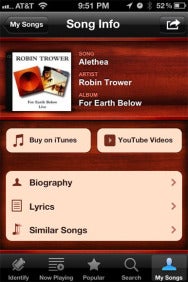 Lyrics: Every app except MusicDNA ID provides some type of song lyrics. Of those, all of them can supply simple lyric sheets, but Shazam Encore, SoundHound ∞, and Hound are in a three-way tie due to their ability to present lyrics that scroll automatically in time to the music.
Final Verdict
Overall, SoundHound ∞ earns the title due to its speed, reliability, massive information library, and broad sharing options. Shazam Encore is a solid second place finisher with Hound in the middle of the pack. The other apps trailed farther behind, with MusicID with Lyrics coming in a distant fourth and MusicDNA ID, with its spartan set of features and sketchy performance, barely finishing the race.
All ratings aside, if you're searching for a free solution to your music identification problem, there's no need to limit your choices since all three paid apps in this group: SoundHound ∞, Shazam Encore, and MusicID with Lyrics have free counterparts ( SoundHound, Shazam and MusicID+) that provide nearly all the same features as their paid siblings. And the iPad version of Shazam offers similar features to Shazam Encore, but it's free and optimized for Apple's tablet.
So, regardless of your budget, it's easy to have one of these music ID/lyrics apps handy so that you'll never need to worry about finding yourself struggling to remember the name of that song by that guy—you know, the one that goes "dah dah dah doo?.
[Brian Beam is a musician, software designer and partner with web development firm BOLD Internet Solutions, living somewhere near Kansas City.]