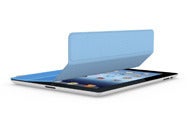 The iPad has boosted Apple back to the top of the market, helping the company achieve an estimated 19 percent share of worldwide PC shipments, according to a new report from Canalys.
The report reveals that Apple's iPad had "the biggest single impact on growth rates" in quarter two of 2012, helping overall global client PC shipments rise by 12 percent year on year in the quarter.
Tablets, including the iPad, Samsung Galaxy Tab, the Asus Transformer and more, have seen a hugely successful quarter, with total shipments increasing by 75 percent to 24 million units during Q2. Tablets now represent 22 percent of all PC shipments, says Canalys.
This significant increase in tablet shipments "more than compensated" for the disappointing sales of Ultrabooks, Canalys claims. "Reports that poor economic conditions and the wait for Windows 8 hurt the PC industry this quarter do not tell the whole story," said Canalys research analyst Tom Evans. "The PC Industry is performing well and 2012 is shaping up to be a record year. Vendors with innovative products will reap the rewards."
In quarter two last year, Apple was in second place behind HP, with 13.6 percent of the worldwide PC shipments while HP had a 15.7 percent share. This year, however, Apple is the winner by far with a year-on-year growth of 59.6 percent, according to Canalys' estimates. Apple now has an impressive 19.4 percent share of the market, and shipments of 21 million units.
This year, HP is about 8 million sales behind Apple, with a 12.5 percent share of the market, and creeping closer to second place is Lenovo, with a 12.1 percent share.
"There is now a large base of replacement buyers that simply must have the latest Apple product, and the decision to continue shipping the iPad 2 at lower price points has opened up new customers, for example in education," said Evans. "One drawback of the stand-out Retina display in the new iPad, however, is the increased storage demanded by HD content. An upgrade, without a big price increase, is a must for the next generation of product."
The leading Android tablet vendor in Q2 is Samsung, Calalys highlights. The company, which is currently in a legal battle with Apple over patent and design infringement, doubled the shipments of its Galaxy Tab year-on-year. The third largest tablet vendor (behind Apple and Samsung) is Asus, which has seen success in the US since the launch of its low-cost Transformer tablet.
Note: When you purchase something after clicking links in our articles, we may earn a small commission. Read our affiliate link policy for more details.