At a Glance
Expert's Rating
Pros
Integration with Web fonts
Easier font access in major Adobe CS6 apps
Cons
Web access limited to WebINK or Google Web fonts
Requires Flash for application font panels
Our Verdict
Suitcase Fusion 4 is the third update of this popular font management utility since Extensis acquired DiamondSoft and combined Suitcase with Font Reserve. In this version, Extensis focused on streamlining the process of experimenting with and activating fonts, especially from within Adobe Creative Suite applications. It also enhanced the program's ability to provide designers with Web fonts.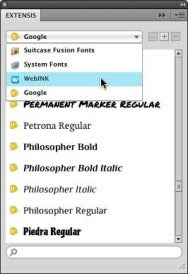 Creative Suite font panel
Version 4 adds a new Extensis font panel to Adobe InDesign, Illustrator, and Photoshop that lets users work with fonts and sets, without having to leave those applications and open Suitcase. Using the new Extensis font panel, you can apply any font to a selection, and if the font isn't currently active, Suitcase will activate it. You can even use its search field to find, for example, all the fonts that have Garamond in their names. And unlike in Suitcase's main interface, the Extensis font panel within Creative Suite lets you see and activate fonts from multiple libraries. This is a welcome and necessary improvement, since Suitcase now also lets you work with Web fonts from its own WebINK service and the free Google Web Fonts. The Google Web Font service offers hundreds of free, open source fonts suitable for students or beginning designers. Contrary to its name, these fonts can be used both in print or on webpages.
The Extensis font panel in Photoshop has one feature not available in InDesign or Illustrator: you can use Extensis' WebINK fonts to mock up a webpage for free, and only pay for the fonts when your webpage goes live. You can even give your Photoshop document to others, and if they're using Suitcase Fusion 4, those fonts are automatically available to them as well.
Access to WebINK and Google Web Fonts has a hidden benefit when combined with Suitcase's QuickMatch feature (a phenomenally useful technology for finding similar-looking fonts): When you want a font for a webpage that's similar to a font you used in a print layout, QuickMatch will also search the fonts in those services. You can even limit the search to specific characters, such as those used in a company or product name.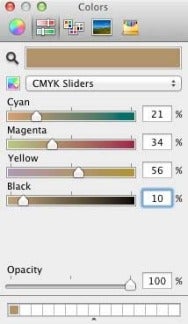 The Extensis font panel has an additional feature: Digests. A Digest is a way to combine fonts from multiple libraries into one logical group—or digest. Since the main Suitcase interface does not allow you to combine fonts from multiple libraries into a single logical set, this is a way to keep track of fonts from multiple sources, such as two different local font Libraries, WebINK fonts, and Google Web fonts. Unfortunately, this feature seems half-baked, as you're limited to adding complete Sets or Libraries to a Digest—you can't pick out individual fonts to add to the digest. Also, while these digests are shared among Photoshop, InDesign, and Illustrator, they are not available outside those applications. And since WebINK fonts are only available in Photoshop, they are not included in the digests in InDesign or Illustrator.
More handy features
Other new features are quite helpful: You can use a color picker to choose the text and background color for font samples—this is good for when you want to drag out a font sample and have it match a client's corporate brand colors. There's a new auto-activation plug-in for Adobe InCopy CS4 and CS5, in addition to plug-ins for InDesign CS4, CS5, and CS6, Illustrator CS4, CS5, and CS6, Photoshop CS4 and CS5 (Extensis is currently working with Adobe to create an auto plug-in for Photoshop CS6), and QuarkXPress 7, 8, and 9. Unfortunately, a bug with the auto-activation XTension causes QuarkXPress to prompt you to re-save every file you open, even if the document has not been changed.
Smarter interface
The main Suitcase window is also smarter in this version: You can resize the panels within the window; there's a new button for QuickMatch; and there are new buttons at the bottom of the window for common actions. There is also a new Favorites feature that lets you mark a font by clicking a star next to its name. You can then create a smart set to display all your fonts marked as favorites in Suitcase. And, you can now create a set from a selection of fonts.
These are just the new features—perhaps 5 percent of Suitcase's total feature set. They join the previous version's powerhouse capabilities, such as previewing new fonts on live webpages, dragging font previews out as standalone image files to send to clients, font previews that can float above documents in any application, application-based font sets, FontSense font identification for auto-activation, font corruption checking and repair, font cache cleaning, and much more. One odd thing: Extensis Font panels use Adobe Flash to function, so they sometimes exhibit an odd, springy behavior when you work with them.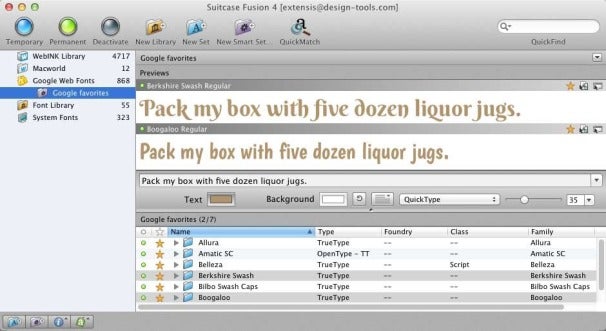 Macworld's buying advice
Designers who work predominantly in Adobe InDesign, Illustrator, and Photoshop will find Suitcase Fusion 4's new font panels a real time saver. Web designers will appreciate this version's unique integration with Extensis' WebINK fonts and Google Web fonts. Users of Adobe InCopy will welcome its new plug-in for precise font auto-activation. Cross-platform teams will appreciate the identical feature set on Macs and Windows. And all existing Suitcase users will enjoy the new Favorites feature, colored font previews and more accessible interface. For all those things combined, this is an upgrade well worth having.
[Jay J. Nelson is the editor and publisher of Design Tools Monthly, an executive summary of graphic design news.]
Update on 9/6/12: After this article was published, Extensis released an update to Suitcase Fusion on its website that contains the Photoshop CS6 plug-in, the InCopy CS6 plug-in, and general OS compatibility information.