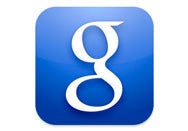 According to an official blog post by Google Search Senior Vice President Amit Singhal, the company's Voice Search technology will soon be available for iOS devices, making the Google Search app a more direct rival to Apple's Siri.
Voice Search has been available on the Android platform for a few weeks. While existing versions of the iOS Google Search app already accept voice input for entering search terms, Voice Search improves on that.
For one thing, Voice Search can interpret natural-language search requests ("what will the weather be like tomorrow?") rather than forcing you to use Google-ese ("weather forecast San Francisco"). It can also take into account things like your location and the context of your search. So if you say, "Where's Spiderman playing?", it will in theory know you want to see local showtimes and tailor its results accordingly. In other words, it isn't as literal as Google Search's voice input is now.
Google says that Voice Search's cleverness is based in part on the company's Knowledge Graph, a ginormous database that connects billions of bits of information in relationships. So when you search for Da Vinci on Google.com now, the search engine knows to include images of the Mona Lisa and his other paintings as well as biographies of other artists in its results. Voice Search apparently taps into that database to interpret voice requests intelligently.
The Siri comparisons are obvious. (We'll certainly be testing the two side-by-side as soon as Voice Search becomes available on the App Store.) Like Siri, Voice Search doesn't just accept voice input: It can also (much like Siri) speak its search results. But (as our pals at Ars Technica quickly pointed out) Voice Search will work on iPhone models (4 and earlier) that can't run Siri. And it just does search: Voice Search won't—as Siri does—incorporate apps, calendar appointments, and the like into its results.
In other Google search news, the company says it's testing a system to incorporate Gmail messages in its search results. Fortunately, it's only including messages from your inbox in those results; it won't be raiding anyone else's.