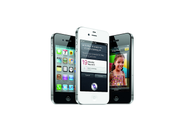 With a new iPhone rumored to launch in September, some iPhone third-party retailers have dropped the prices of current iPhone models by roughly $50. And now, your local Apple store has done the same.
MacRumors reported on Thursday that Apple retail stores will match these discounted prices offered by major carriers and retailers (Target, Radio Shack, and Best Buy). Macworld confirmed with an Apple store representative that these prices will be honored—you can scoop up a 16GB, 32GB, or 64GB iPhone 4S for $150, $250, or $350, respectively; or an iPhone 4 for only $50. To be on the safe side, be prepared to cite where you saw the iPhone offered for a lower price—we mentioned Target's deal on the 16GB, followed by Sprint's deal on the 32GB and 64GB models, and the Apple store specialist offered to match any of those prices.
This deal isn't currently offered through Apple's online store; customers must mention this price match to a specialist at an Apple retail store to benefit from this bargain.
iPhone 4S family
Price When Reviewed:
$599