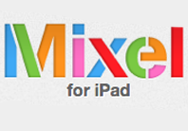 Lascaux will soon sunset Mixel, the iPad app for creating and transforming visual art.
Mixel first launched in late 2010, and a collaborative community of creators quickly formed around the app. The app made quick work of creating collages, and then allowed anyone to remix and transform collages made by others. The app was free.
In an email to active Mixel users, Lascaux CEO Khoi Vinh wrote, "Unfortunately, we've decided that the time has come to put this first iteration of Mixel to rest." As of August 10, the company will pull Mixel from the App Store. In the near term, folks with the Mixel app already installed on their devices won't notice much different. But, Vinh says, "we intend to shut down the network service by early September."
The problem, Vinh wrote, was that "the Mixel community is not as large as it would have to be in order for us to sustain it as a business."
Vinh explained to Macworld that, "Like a lot of social networks, we were going for scale, so we really wanted to hit a critical mass—millions, even many millions, of users—and we didn't really get there." Without that scale, continuing to pour effort into updating and maintaining Mixel and its network drained resources that Lascaux would rather pour into a new app that Vinh promises is coming soon.
Many folks loved the Mixel, Vinh said. "What we discovered was that people said the app is really fascinating and intellectually interesting, but we didn't really create an app that was broadly appealing to a lot of people," Vinh said. "People were really amazed and impressed by the app, but were intimidated by what they saw other people do, and didn't think they could do it, too."
While Vinh wasn't ready to spill too many secrets about Lascaux's next app, he did say that "it's still about collage," and that the company's goal with the as-yet-unreleased sequel was to empower users to create "regardless of whether you have artistic talent."
Existing Mixel users can save any mixels they created from within the app by tapping the Share icon beneath each one they'd like to save. The company adds that "in the coming weeks, we'll also have a simple way for you to download all of your mixels in a single bundle."
Once the Mixel network shuts down in September, the app will no longer function at all, the company says. When that happens, the webpages for each mixel will vanish as well.