At a Glance
Expert's Rating
Pros
Bus-powered
Pre-formatted for Mac
Includes Thunderbolt and USB 3.0 cables
Cons
Unimpressive data transfer speeds
Only one Thunderbolt and one USB port
Our Verdict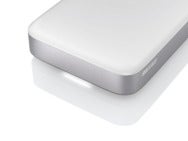 Buffalo Technology's MiniStation Thunderbolt drive is a plug-and-play, portable, external hard drive that boasts both Thunderbolt and USB 3.0 connectivity.
The MiniStation comes pre-formatted for Mac and is Time Machine compatible, so backing up your data is a breeze; take note however, that Thunderbolt is only compatible with OS X 10.6 and later, whereas USB can be used with OS X 10.5 and later. The drive comes in two capacities, 500GB ($200) and 1TB ($240). Included with the drive are both a Thunderbolt and USB 3.0 cable, as well as Buffalo's 24/7 tech support and a three-year warranty.
The MiniStation Thunderbolt drive's design is very simple. Housed in a silver aluminum body with a white top, the drive has only two ports: one Thunderbolt and one USB. With only one Thunderbolt port, it has to be the last device in a daisy chain. On the bottom of the drive is a flashing white activity light to let you know when the drive is connected. The MiniStation's 3.2 by 5.1 by 0.9 inch pocket-sized body and bus-powered ports make it easily portable, allowing you to take your data anywhere you need to go.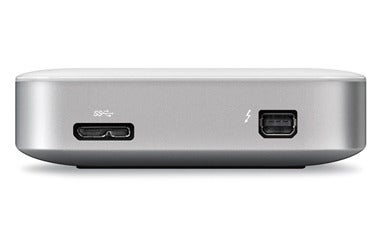 Although this drive boasts the high-speed Thunderbolt and USB 3.0 interfaces, it yielded pretty average test results. Because the MiniStation's internal drive is a 2.5-inch platter drive, the capabilities of each interface are hampered by the drive's rotational components. In the AJA System test, the MiniStation put up a write speed of 102.5 MBps and a read speed of 108.2 MBps via Thunderbolt, and scored a write speed of 101.4 MBps and read speed of 106.9 MBps via USB 3.0. When connected to USB 2.0, the MiniStation drive put up fairly standard scores, with a 26.6 MBps write speed and 35.2 MBps read speed in the AJA System Test. Overall, this drive performed similarly to Seagate's new Backup Plus drive, but is considerably more expensive and has less to offer as far as extra features are concerned.
Macworld's buying advice
If you are looking for a portable, plug and play drive with the newest connectivity options, this drive has your name on it. If you have a late 2011 Mac with Thunderbolt, or a 2012 model that supports USB 3.0 and Thunderbolt, this drive will be great for backing up or storing your data, though its performance is hampered by its rotating drive platters.