As a follow-up to last week's column on Mountain Lion troubleshooting, here are two more OS X 10.8 bugs for your collection. Both of these critters result in crashes of the affected applications.
Network proxy bug
There's good news and there's bad news here. The good news is that this bug affects only a minority of users—those that enable "network proxies" (as done by going to Network System Preferences, clicking the Advanced button and selecting Proxies). The bad news is that, if the bug affects you, it's serious: Several different third-party programs are likely to crash on launch.
The author of MarsEdit explains:
The issue is related specifically to the 'Auto Proxy Discovery' and 'Automatic Proxy Configuration' settings in Network preferences. If you have one of these options checked, you are very likely to crash in MarsEdit, Safari, Tweetbot, and any number of other apps that rely on Apple's networking libraries.
Another such application is NetNewsWire. Its developers write:
We believe the instability is affecting a few percent of our users, but it's occurring too deep in the bowels of the networking stack to be fixable on our end, leaving us dependent on Apple to correct it in 10.8.1.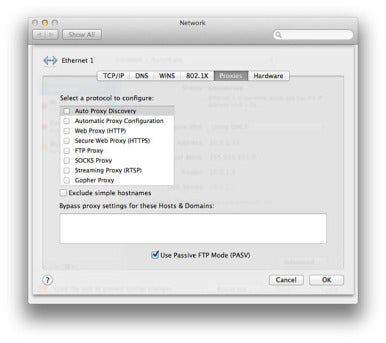 Also chiming in on this matter is AgileBits' David Chartier, writing about how the bug affects Safari and 1Password: "If you are experiencing Safari 6 crashing under Mountain Lion with our 1Password extension installed…it appears to be caused by a problem with proxy settings under Mountain Lion."
The agreed-upon recommended work-around—at least for now—is to disable/uncheck Network's Auto Proxy Discovery and Automatic Proxy Configuration options. If you can't turn them off, because your network requires that these options remain enabled, you won't be able to safely use the affected apps until Apple supplies the needed remedy.
Snapz Pro bug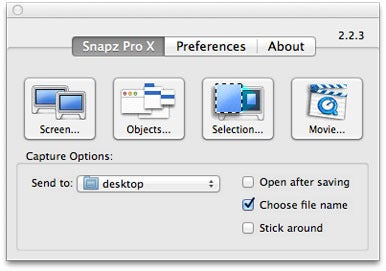 Another program with difficulties taming Mountain Lion is Ambrosia's Software's Snapz Pro X, a screen-capture utility. The developers state: "The current version of Snapz Pro X is not fully compatible with Mountain Lion." The main symptom is that selecting the utility's Objects… option will cause Snapz to crash. In addition, "Mac Audio capture will not work. The KEXT used for Mac Audio capture should be uninstalled automatically by the OS. If used, it will result in a kernel panic."
These are significant problems for Snapz Pro users. In my case, I use Objects for about 75 percent of the screen captures that I do. I was glad to read that the developers hope to have a Mountain Lion compatible update out "as soon as possible." I'm counting the days.