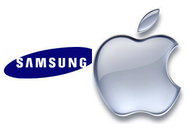 Just how much does Apple dominate its competitors in the U.S. tablet market? Providing speculative answers to that question has been the bread and butter of many a technology analyst, but documents recently filed as part of the court battle between Apple and Samsung provide actual sales numbers. Those figures offer a startling look at the strength of Apple's sales in its home market.
Since launch, the iPad has sold 34 million units in the U.S.—roughly one for every nine people in the country—and brought in $19 billion in revenue for Apple. The Galaxy Tab has managed sales of 1.4 million units, worth $644 million in revenue.
The data was submitted to the San Jose, CA, court where the companies are battling over patents. It covers quarterly U.S.-market sales for all models of the iPad combined and Galaxy Tab sales broken down between the three models: the Tab, Tab 10.1 and Tab 10.1 LTE. It's worth noting that although both sets of data run to the second quarter of this year (which ended in June), the Apple data begins with the second calendar quarter of 2010, while the Samsung data begins in the fourth quarter of the same year. In other words, Apple's sales data covers nine quarters, while Samsung's covers seven.
Looking at the sales data, the Galaxy Tab enjoyed its best U.S. sales in the last three months of 2011, when Samsung sold 347,000 total units: 102,000 of the Tab, 213,000 of the Tab 10.1, and 32,000 of the Tab 10.1 LTE. Sales were worst—just 37,000 total units—in the most recently ended quarter, although it's unclear if the second-quarter sales data is for the complete three-month period.
In contrast, Apple sold more iPads in any single three-month period than the Galaxy Tab has thus far sold in total. The weakest quarter for the iPad was the first quarter of 2011, when sales hit 1.9 million units. Strongest sales came in the last three months of 2012, just before the end-of-year sales period and after Apple launched new iPad models. Sales during that period were just under 6 million units.
The case, 11-01846 Apple vs Samsung in the U.S. District Court for the Northern District of California, is currently in the jury trial stage. It is expected to last through August.
Martyn Williams covers mobile telecoms, Silicon Valley and general technology breaking news for The IDG News Service. Follow Martyn on Twitter at @martyn_williams. Martyn's e-mail address is martyn_williams@idg.com