When residents of Riverside, California see a pothole, they aren't limited to griping about the damage it will do to their cars. Instead, they can pull out their iPhones, take a picture of the street damage, and use Riverside's Mobile 311 App to upload their report straight to a City Hall database.
The problem often is fixed within a day, according to Steve Reneker, the "chief innovation officer" for Riverside city government.
"You go out anywhere in the city with the iPhone, and you see any kind of problem—a code problem, a streetlight, a pothole—and the problem gets resolved," said Fred Speer of Xerox, which helped the city develop the app as part of a broader array of digital services for Riverside officials and citizens.
Riverside was ahead of the pack in embracing iPhone applications and other digital tools in municipal government. But the rest of the country is catching up: Local, state, and federal government agencies are increasingly using the iPhone and iPad to transform the way citizens and government relate to each other. New mobile apps are making it easier for citizens to get information, demand services, and hold officials accountable—and to do it on the fly.
"I think the Internet generally is changing the relationship [between governments and their citizens]," said Andrew Weber at the Library of Congress. iPhone applications like his agency's Congressional Record app make the interaction "closer to real time, and that's a benefit to citizens who are engaged, and who stay in close contact with what's going on."
Mobile apps on the iPhone and iPad are giving U.S. citizens greater access to their government in several ways:
Solving problems and finding services
Like Riverside, the city of Huntsville, Texas provides a free iPhone app for residents. They can see agendas for city meetings, a schedule of other public events, and contact information for important city agencies. The app also lets users photograph and report problems to the city government.
"If they see a pothole, they can take a photo and it'll go to the tracking software used by the government to track" reported problems, said Ken Barlow of eGov Strategies, which helped build Huntsville's app. "A lot of times, that's when people are most irritated—when they hit a pothole. Right there, they can take a photo of the violating entity."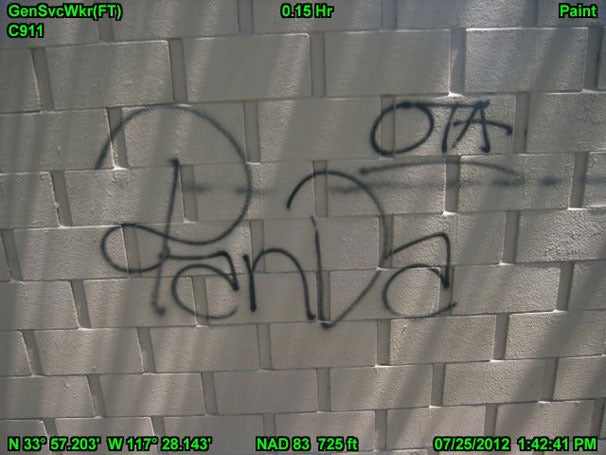 In Riverside, though, Reneker said it's not enough to give citizens the power to more easily report problems: It has to be followed through with action. His city has hired a private firm that guarantees graffiti removal within 24 hours of a report.
"On the way into work, I'll see graffiti, take a photo, and on the way home it's gone," Reneker said. "If you make a diligent effort at resolving the issue, you'll have more people using the app and reporting again and again."
Providing access to public records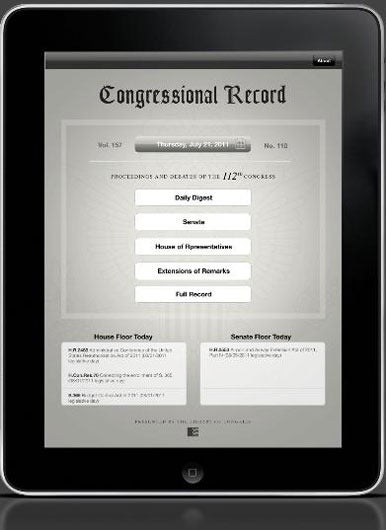 Sometimes, people simply want to know what their government is doing. The Government Accountability Office offers a free app to offer access to the agency's reports, and The Congressional Record app—released earlier this year—furnishes iPhone and iPad users with an archive of every issue going back to 1995. The paper is published daily while Congress is in session, and features a record of all votes, speeches, and debates held on the floors of the House and Senate.
That sounds like a lobbyist's dream, but officials say the app is being used outside the Beltway, and offers taxpayers other advantages as well.
"It actually saves money on printing costs," said the Library of Congress's Weber. The archive is also searchable by keyword, and specific documents can be shared by email or saved to a PDF reader, making the archives of Congress more usable. "I think it's another easy access tool to Congress, a quick way to keep up, on a device more and more people carry around and use."
Tracking government spending was the idea behind Recovery.gov, a federal website set up after President Obama and Congress passed the 2009 stimulus bill to try to revive the faltering economy. That information is available in an iPhone and iPad app, which let users see how money was spent in their community and Congressional district, and also allows them report examples of waste, fraud, or abuse.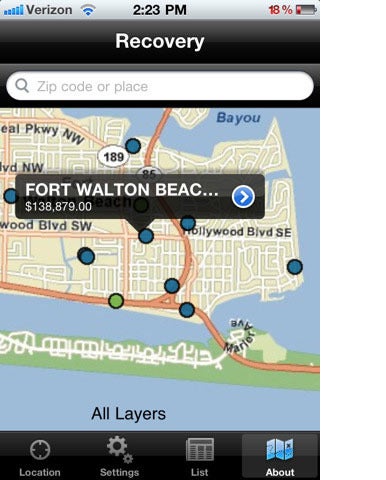 "There's a groundswell for transparency and having access to information," said John Crupi of JackBe, a technology company that helped funnel the data from government agencies to the Recovery.gov website and app. "The fastest and best way to (expose stimulus) is mobile. It's the No. 1 target for anything that's being done in stimulus or transparency."
Encouraging reports from whistle-blowers
In Philadelphia, City Controller Alan Butkovitz released the Philly Watchdog app in 2011 as a means of keeping that city's notorious municipal government in line. The app lets users report—anonymously, if they choose—where City Hall has fallen down on the job, with options for reporting everything from unlicensed businesses to city employees using government vehicles for personal use.
Brian Dries, a spokesman for Butkovitz, said the app had been downloaded 1,500 times and been the source of 220 fraud reports. "I think the functions of the iPhone can greatly impact the way that citizens have the ability to respond to and receive information from government agencies," he said.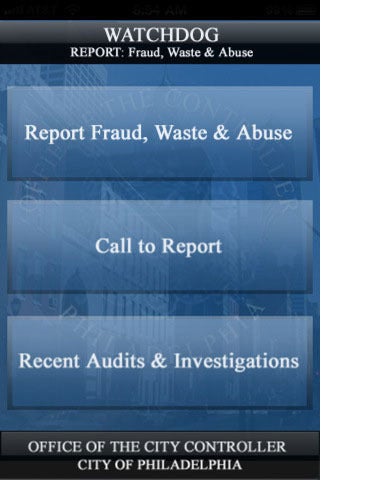 It's not just government agencies that can use iOS apps to keep government accountable, however. Over the summer, the New York and New Jersey branches of the American Civil Liberties Union both announced they were preparing apps to let iPhone users make recordings of police stops, a tool they say will help make the public case that officers overstep their legal boundaries—and may even provide evidence in civil rights lawsuits.
Currently only Android apps are available from the New Jersey and New York branches of the ACLU; iOS apps are expected in September.
"We wanted to be able to give New Yorkers something free and easy that they could carry at all times to document the problems we know are happening on the streets of NYC," said Jennifer Carnig, a spokesperson for the ACLU's New York branch.
A smartphone, ACLU representatives said, is the perfect tools for doing that documentation—with the ability to record video, photos, and audio. It's also a deterrent, they said, to police who might abuse their authority.
"We think properly empowered citizens are a great check on government power, police power," said Alexander Shalom, a lawyer at the New Jersey branch. "We want to make it more circular—if they're going to watch us, we're going to watch them. Technology, in the hands of the citizen, has the possibility of transforming that dynamic to making it a circular relationship instead of a linear one."
However, users are encouraged to use the apps to record police stopping other people, instead of confronting officers with an iPhone. "We're very clear this is for bystanders," Carnig said. "If you're stopped by police, we don't recommend going into your pockets. But it's your First Amendment right to record the police."
'This is what's next'
Observers in and out of government say that iPhone and mobile apps will become increasingly prominent as a tool that connects citizens to their leaders. Future apps may contain more social elements and the ability to "crowdsource" solutions to problems.
"I think the functions of the iPhone can greatly impact the way that citizens have the ability to respond to and receive information from government agencies," said Philadelphia's Dries. "Smartphone technology is the next technology curve that everybody's going to have to get on board with; this is what's next."
Joel Mathis is a political columnist and stay-at-home dad in Philadelphia.