The Hidden Radio has officially moved from Kickstarter dream to real-world reality. Launched as a crowd-funding project back in November 2011, the Hidden Radio is a portable, rechargeable Bluetooth speaker and FM radio. On Wednesday, the first 10,000 units began shipping to Kickstarter supporters, and the company will begin accepting preorders at its website for new customers. Those new orders will ship in October.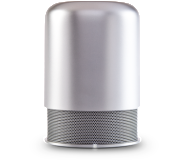 Though co-creators John Van Den Nieuwenhuizen and Vitor Santa Maria initially sought to raise just $125,000 through Kickstarter, they ended up raising nearly $940,000. And that worked out great, Van Den Nieuwenhuizen told Macworld: "Extra money that we raised allowed us to make the project much better."
For example, according to Van Den Nieuwenhuizen, the original plan was for the Hidden Radio to rely on removable AA batteries "to keep the product simple. But with the extra money that we raised, we got to put in our own Lithium Ion rechargeable battery, and a much better speaker—improving the quality of the sound."
That built-in battery should offer 15 hours of continuous listening at the Hidden Radio's maximum volume, the company claims. That's down from the 30 hours of battery life the initial Kickstarter project promised, though the 90-decibel output improves upon the original 80dB goal. "We felt that was a good tradeoff," Van Den Nieuwenhuizen said, since customers won't need to tote around replacement batteries, and the overall audio quality will be better.
The speaker's clever design lacks volume controls or a power button. To turn the Hidden Radio on, you lift the cap; to make it louder, you simply lift the cap further.
Van Den Nieuwenhuizen says that the speaker offers "a 360-degree sound experience, so that no matter where you are, you hear the same great sound," and claims that "the bass and the treble are as good as the market leaders, so we're easily right up there with our competitors."
The Hidden Radio charges via Micro-USB. Currently, the silver and black models are each priced at $150, with the white model at $180. Each of those prices will increase by $40 after September 30.
Macworld will publish a full review of the Hidden Radio once our review unit arrives.