Editor's note: The following review is part of Macworld's GemFest 2012 series. Every weekday from mid June through mid August, the Macworld staff will use the Mac Gems blog to briefly cover a favorite free or low-cost program.
Two recent projects (editing a 700-page website and designing a small iPad app) had me wishing for a simple yet sophisticated drawing program that would let me illustrate the relationships within clusters of pages (for the former), and the flow of the interface (for the latter). Had I known about Shapes 2.6 ( Mac App Store link) in time, it might have been the solution for both.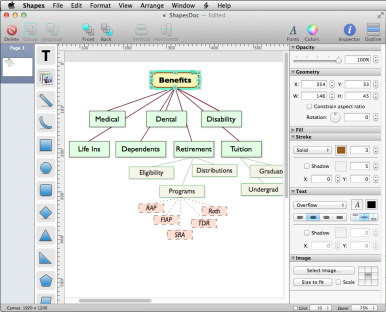 Shapes lets you draw organizational and flow charts with a variety of shapes, lines, and arrows. It has a beautiful, elegant-looking interface that is supremely Mac-like, with a multi-faceted Inspector that lets you tweak line widths and styles, line and fill colors, text, and even fill a shape with an image. Basic grouping, alignment, and lock/unlock commands help keep things neat. You can export your documents in several different image formats (.jpg, .gif, .png, and .tiff), as well as PDF.
But Shapes needs more interface attention at another level. To put a shape in your document, you either double-click on it in the toolbox or drag it from the toolbox into position; then you adjust its size by dragging its handles. This feels like an extra, unnecessary step: I want to just click on a tool and draw with it.
Attaching shapes with lines (and if you don't want to do that, you don't need this program) is also awkward. With the shapes in the document, double-click to add a line, drag one end of it to meet a handle on one shape and the other end into a handle on the second shape. I just want to grab the line tool and draw a line from one box to another without having to aim for the little handle. I cleverly grouped different sets of lines so I could change their widths and styles in batches, only to find that grouping lines detaches them from their shapes, and vice versa. Reattachment was somehow even more tedious than setting them up the first time. And, while adjusting the curvature of a rounded rectangle is a study in interface elegance, if you change the shape's width, you can easily lose the curve entirely.
But Shapes fills a distinct niche, and you won't find a more thorough or more beautifully designed app at this price.