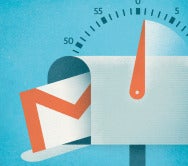 When it comes to managing your email, Google's free Gmail is easily one of the most efficient tools around. Over the years, Google has reinforced its unique approach and built bigger and better features into Gmail.
The result, however, can be daunting. Which of this email program's many option do you actually need? Here are eight tips for using the best.
1. Show only your favorite labels
Labels allow you to assign multiple categories to a single Gmail message. For example, when reading an email from your partner about planning the next family get-together, you can use the tag icon at the top to create one label called "Family," then another called "Follow Up." Later, you can click the Family label to filter out all other messages, or check your Follow Up label for messages that need extra work to answer.
If you end up using certain labels much more than others, you can pick and choose which ones to show in your Gmail sidebar. Go to the Gear menu in the upper right, then Settings, then Labels. Next to each default label—and any additional ones you've created—you'll see the options to Show and Hide.
2. Use filters to sort important messages
Filters are a great way to automatically sort mail based on various attributes such as the sender's address, whether the message include attachments, and whether keywords appear in the subject or body. If you belong to a lot of email lists or forums, or you you have one uncle who just can't stop forwarding cat photos and chain letters, filters are a killer way to enlist Gmail to fight your organizational battles for you.
To set up a filter, go to the Gear menu -> Settings and click Filters. Select Create A New Filter at the bottom. You'll have the option to enter criteria as well as test to make sure the filter is picking up the right messages. For example, to deal with your uncle's many messages, create a filter with his email address in the From field (say, uncle@example.com), and click Create Filter With This Search. In the next window, choose your action—you can assign a label and archive the messages to spare your inbox or, if you honestly won't get to them, trash them and save yourself the guilt.
You can also create filters directly from a message you're viewing. Click on the disclosure triangle next to the reply arrow and in the menu that appears, choose Filter Messages Like This.
3. Customize your Inbox
Gmail offers a few different ways to organize your inbox, with one of the most useful being Priority Inbox. Mouse over the Inbox label at the top of the sidebar, and click the arrow that appears next to it. In the menu that appears, pick Priority Inbox. Your inbox will transform into three sections: Important, Starred, and Everything Else.
Mark messages as Important (using the little tag button near the subject) to teach Gmail that those topics and senders should get VIP treatment. The difference between marking a message as important and starring it is that, once you read a message, it disappears from the important list. Starring a message is more like pinning it to the cork board at your desk; the message only disappears once you remove the star.
You can customize how these sections behave by mousing over their names and hitting the action arrow next to them. For example, you might make a new inbox section to display the five most recent unread messages with the label that catches all your favorite forum's notifications, or for the label you use to designate messages from family and dear friends.
4. Expand your stars
Starring Gmail messages (in Apple Mail this is equivalent to flagging a message and is represented by a little colored flag) has proven to be such a useful tool for marking important messages that Google decided to expand on the shapes and colors you can use.
Go to the Gear menu -> Settings, click General, and scroll down a little to see all your star options. Depending on how you work and the colors that catch your eye, choices including purple stars, orange arrows, green check marks, purple "?" boxes, and more.

5. Turn on two-factor authentication. Really.
Think of this as a "sleep better at night" enhancement to your Gmail experience. Two-factor authentication means that any time someone (including you) attempts to sign into your account from a new device, Google will ping you via another device that you've specified, such as your cellphone, before granting access.
Macworld staff writer Lex Friedman has a great article about setting up Google's two-factor authentication, and I will not blame you if you drop everything—including this very article—to read it right now and get set up.
6. Use Google+ Circles to organize your mail
If you use Google+, the company's social networking site, and have organized friends and other people you follow into circles, take advantage of the work you've done to add automatic email filtering and organizational convenience to Gmail.
Google integrated Google+ Circles into Gmail so that your circles now can work much like groups or folders do in other email programs. Click on Circles in your Gmail sidebar to reveal a collapsible list. Then, click on one of your circles to display only the messages from people in it.
7. Video chat in Gmail
Google+ Hangouts— Google's tool that lets up to ten people video chat, collaborate on apps, and share screens together—came to Gmail last month. That means you can launch a meeting or wrangle some friends together on the spot, without having to switch away from your email. Just click the video camera icon at the top of the chat list in Gmail to start a Hangout.
8. Make Gmail play nice with Mail
If you'd rather use Gmail via Mail or another desktop client, an article I wrote last year can take you step by step through the process of setting them up together. Google has since given Gmail quite a facelift, but not much as changed in terms of the actual features you can tweak to make the two work well together.
Email that works
Email is one of those things that feels like it can demand far more of you than you get from it. But armed with a few of Gmail's great tricks like these, you can conquer your inbox and bring peace to your workflow.
David Chartier is the Herald for 1Password, proprietor of Finer Things in Tech, and getting much better at responding to your email messages.