At a Glance
Expert's Rating
Pros
Loads of cool features
Outstanding video and still-shot performance
Cons
Heavy at 1.4lbs and has a few handling hitches
Very expensive
Our Verdict
It's very pricey. It feels like a brick. And at $1600 and jam-packed with high-end features, I hesitate to call Sony's flagship Handycam a consumer model. This camcorder falls squarely between the consumer and the higher-end prosumer worlds. It's one of the more compelling compact camcorders I've reviewed.
Trial by fire: The Chevron refinery explosion
The best test of the HDR-PJ760V came out of the blue. A real-life drama proved this camcorder's chops as a fully automatic point-and-shoot model. On the afternoon of Monday, August 8, I was in my home office in the El Cerrito hills. It overlooks the Chevron refinery site three miles northwest of me. I was getting this camcorder ready for a test when the Number 4 Crude Unit blew up, shooting flames into the sky and a plume of black smoke towering up to 3,000 feet. I dashed to my office window and let the camcorder rip. I shot in full-auto mode—no time to fool around with settings. You can see the results here:
This turned out to be a terrific test of the camcorder's ability to intelligently compensate for exposure and minimize artifacts in one of the most challenging shooting situations you can face: shooting directly into the sun. I had no time to attach the supplied lens hood—Sony needs to make that easier to snap on. Even so, the video shows almost no flare, you see almost no banding in the sky (a common artifact on non-pro, and even some pro cams), and the video has decent contrast. The unit's SteadyShot optical image stabilization also worked phenomenally well. I got very little motion jitter even though I was hanging out my bedroom window, constantly shifting to keep my bureau edge from gouging my hip.
Finally, the surround-sound stereo mics did a great job picking up the radio announcer across the room. I could easily make out the breaking news even though my radio was a dozen feet away and its volume was room level. Which brings me to one of my main beefs: It was too easy to cover up the top-mounted mics with my fingers, especially with both hands wrapped around the camcorder body. If you plan to do lots of shooting, consider an external mic, such as Sony's optional shotgun mic (ECM-CG50, $240), which mounts onto the hot shoe.
Best performer on the bench
This camcorder performed like a champ under tough conditions. It's no surprise then that the HDR-PJ760V aced our lab- and home-based tests. For the full-light video tests, I shot in late afternoon with the sun behind me, shooting in AVCHD 1080/60i at 17Mbps. Video was very sharp and colors remarkably realistic—rich but without a trace of oversaturation—and I got very little blurring even when I panned quickly. Audio was similarly outstanding, full and clear sound with no tininess and almost no wind noise. Another nice surprise: I could keep shooting while tapping menu items to adjust settings on the fly.
In the low-light tests, video remained remarkably crisp, color accuracy stayed spot-on, and auto-focus struggled only occasionally. Photos were impressive, too—very sharp and with warm but not oversaturated colors. These shots are as good as, or even better than what I've seen on most dedicated still-shot cameras. This is not surprising given that you can shoot pictures up to a whopping 24.1MP of resolution, where the colors looked much warmer and richer than at the 12.3 and 2.1MP settings.
Feature-rich, plenty of nods to pro shooters
At 1.4 pounds and 5.3-by-3-by-2.8 inches, the HDR-PJ760V is too heavy and bulky to serve as a pocket grab 'n go camcorder. Even so, it's remarkable how much Sony squeezed into this very solid compact case and, with a few exceptions, how well Sony implemented everything. Along with the goodies discussed above, it comes with loads of shooting modes (including four levels of AVCHD 1080/60i, AVCHD 1080/60p, and two levels of 24p "film" mode), extensive night-shooting features (video light, flash, and NightShot infrared), a step-down lens ring that allows more lens attachments, and a monstrous amount of internal memory (96GB). Remember viewfinders? The HDR-PJ760V has one, pivotable and in color. The viewfinder lets you shoot with the LCD panel closed, saving battery power and letting you wrap your hands fully around the camcorder body for a better grip.
The HDR-PJ760V comes with too many features to cover in detail here, but three deserve special mention: the powerful on-board mini-projector, very good manual settings, and the on-board Global Positioning System (GPS) functions.
Presentations sans Macbook
At first the mini-projector seemed gimmicky, but I found it really does turn the camcorder into a viable stand-alone presentation tool. Mounted on the front of the LCD panel, it projected sharp, focused video and photos from up to six feet away from the wall, displaying them over a 2.5-by-1.5 foot area. Coupled with the loud and crisp internal speakers, it lets you effectively present to a group of at least several dozen people seated around the camcorder. The LCD screen goes black when you use the projector, but I used the supplied remote control, which worked fine.
Fine-tuning your shooting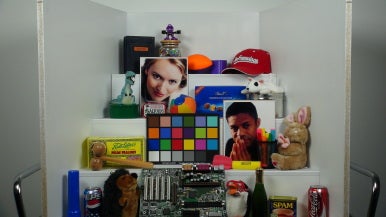 The Handycam HDR-PJ760V has some of the best manual controls I've seen on a compact model. As with all small camcorders, these controls fall well short of a full-sized pro model that has the real estate to fit all the dedicated knobs and buttons. Sony's solution to the space crunch is to place a single quick-programmable rotatable knob on the front panel below the lens. I found it easy to reach, and works silky-smooth. When I pressed the button on the knob's tip, I got a pop-up menu that lets me scroll to the one of six settings (focus, exposure, aperture, shutter speed, AE shift, and White Balance shift) I want to set manually.
However, Sony missed an easy opportunity to make this unit even more manual-friendly. Many pro DV'ers want to be able to set the shutter speed to best match the frame format and rate they're shooting in (e.g. 1/60th of a second when shooting in 30p or 60i) so that motion blur looks "normal." However, the HDR-PJ760V doesn't retain the manual shutter speed setting when I go manual on the aperture or exposure. It reverts to Auto even after I tap down into the menus to set it. That should be an easy firmware fix and I hope to see it soon.
GPS: Very cool when it works
Ever look at old video and photos and forgot where you shot them? This camcorder's built-in GPS receiver solves the problem by geotagging your images—embedding latitude and longitude data so you can pinpoint the location using any mapping program. The main drawback: It can be hard to receive enough signal to determine your location. GPS works well when you're outside with plenty of sky view, but poorly when if you're inside a building, even if you're seated near the window in a café. When it works, though, the GPS provides a very useful alternate way to find images to play back: Map View. This works great when you can remember where, but not when, you shot some video and pictures. Using the on-board map, you can zoom into the shoot location and select the thumbnails you find down to within a city block. The past few months I shot a bunch of events in El Cerrito, Berkeley, and San Francisco, and Map View helped me quickly find the files I wanted to play back.
Great connections, so-so battery life
The HDR-PJ760V comes with more than the usual connections, including jacks for external mic and headphones, and two USB connectors. Especially nifty is the USB connector hanging off the short, hard-wired cable that neatly stows in the hand-strap when you're not using it. It goes one better on the USB flip port—the 2.5-inch cable lets you plug into crowded areas that the Flip can't fit in to.
With such a fine camcorder, why did Sony cheap out on the battery? I got less than two hours in the run-down test, not up to the current norm. For what you pay for the camcorder, the company should have supplied the near-4 hour pack (Model NP-FV70) instead of nicking you another $100 for it.
The bottom line
Most casual users can't justify dropping so much dough on Sony's latest top-of-the-line Handycam—the same money can buy two or three camcorders that deliver decent to very good video and still shots in favorable shooting conditions. On the other hand, if you want to shoot some of the best video available on non-professional camcorders, and you want an exceptionally portable unit for its class, the HDR-PJ760V is a top choice, and you get a lot of terrific extras.
[Bryan Hastings is a freelance writer based in the San Francisco Bay Area.]