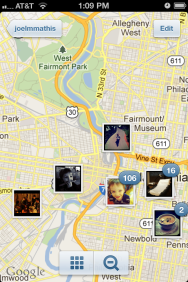 Instagram on Thursday unveiled an overhauled version of its popular iOS app, one that lets users see their photographs arrayed on a map of where they were taken.
Thursday's launch was the second major update to Instagram since it was purchased by Facebook in April. The first update—understandably—tightened the app's integration with its parent social networking service. The debut of Instagram 3.0, however, focuses more on improving the user experience.
The most obvious difference is the addition of the Photo Maps feature. Users can opt to have new pictures automatically added to the map; they can also pick-and-choose from their library of older Instagram photos to decide which could—and should—be retroactively added to that map. (You can also remove pictures from the map "at any time," Instagram says.) The map is zoomable, so even if you've taken most of your pictures in a single neighborhood, you can still get a relatively precise sense of the location a photo was taken.
Photo Maps can be seen on each user's public profile, which means you may want to be choosy about the pictures that are added.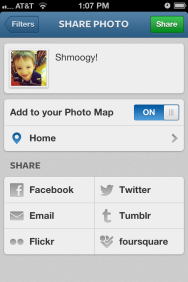 Other updates are more subtle: The user's profile page now displays bigger photos in a grid, making it easier to find old pics. And the photo upload has been redesigned, getting away from the old list of social networking services for sharing photos and using buttons instead; the text box for entering captions is also larger. Users can now scroll through infinite pictures instead of tapping a "load more button." And, finally, abusive or spammy comments left on photos—yours or someone else's—can be reported to Instagram.
The app is free, and compatible with devices running iOS 4.0 or later.