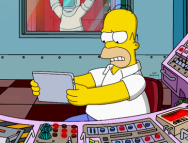 Woo hoo! More than four months after Electronic Arts removed The Simpsons: Tapped Out from the App Store due to technical problems, EA has quietly re-launched the game.
The game was pulled from the App Store in March, after an onslaught of complaints by users that they were unable to connect to the server for multiplayer gaming. Electronic Arts apparently reintroduced the game late Thursday, alerting fans of the game in a Facebook post. The company didn't send out a press release, however, and an EA spokesperson did not respond to Macworld's request for comment.
The game's update notes do mention that the re-launched game includes "some behind-the-scenes adjustments to increase stability and a few other fixes to improve overall gameplay." The updated game now also supports the Retina display on the new iPad.
Users who had bought the game prior to its March disappearance from the store were allowed to continue playing after the game was pulled—they were told that the reduced load on EA's servers would make for more-reliable multiplayer gaming. (The March announcement came just days after the company announced it was permanently suspending development on Battlefield 3: Aftershock, which it had pulled from the App Store in February because of wide-ranging gameplay problems that included, yes, connection problems.)
The Simpsons: Tapped Out is free, although in-app purchases of "donuts" start at $2.58 a dozen. The game is compatible with all devices running iOS 4.0 or later.