Reader Ivan A. swears that the following issue is enough to cause him to pull out his hair. This now-nearly-bald reader writes:
All I want to do is take homemade video of my concert performance from a DVD, get it into iMovie, edit clips, and post the clips on Facebook. How do I do that?
Give your hair a break and follow along:
The first step is to extract video from your DVD. The tool to use is the free Handbrake. This fine tool was designed to extract and convert video from DVDs.
Once you've downloaded your copy, launch it, and in the navigation sheet that appears, select the DVD, choose the VIDEO_TS folder, and click on Open. Handbrake will scan the DVD and seek out the main title. If there's just the one title, you're in business. If not, click on the Title pop-up menu and choose that main title.
In the Presets pane choose the Apple TV 2 preset and click the Start button. By default Handbrake will save the resulting H.264 movie to your Mac's desktop.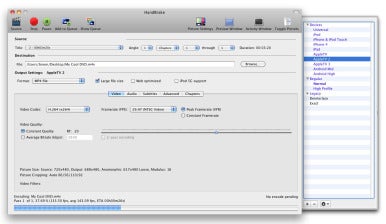 Now launch iMovie and create a new project (File -> New Project). From the File menu choose Import -> Movies. If an HD Import Setting window appears, choose the option to import the Full – Original Size movie and click OK. In the sheet that appears, navigate to the movie you just ripped with Handbrake and click Import. iMovie will go about its business and eventually import the clip—either into an existing event or a new event, if you've chosen that option.
Now that it's in iMovie you can work your editing magic on it to create clips. When you're satisfied with your work, choose Share -> Facebook, enter your Facebook login information, choose the export resolution of your clip, click Next, and upload your clip.