Photosynth started life as a high-end computational demonstration at Microsoft Research and the University of Washington. The first demos involved selecting publicly posted photos taken by dozens or thousands of people from sites like Flickr of a popular destination, such as Notre Dame in Paris. The software would assemble the varying views into a browsable three-dimensional model. It was breathtaking. The technology has developed into a Windows-only desktop program desktop program that can both create these kinds of models and more conventional panoramas. The panorama feature by itself makes up the the free Photosynth for iOS. It's a bit of magic, too.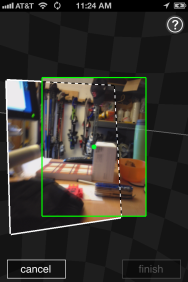 You may be slightly taken aback by the interface, which is closer to the Zune music player's design of a few years ago (which I quite liked). But it doesn't detract from utility, just familiarity.
The steps Photosynth uses to create a panorama are among the easiest, and provide some of the best results. Tap a camera icon at the bottom of the screen, orient the iOS device in portrait or landscape mode, then tap to begin. Photosynth uses a rectangle with a centered dot to indicate the area being captured. From where the first image is captured, the app paints edges using dotted lines to show what's missing.
Move the camera around, keeping it in the same plane of motion, not rotating it slightly or tipping it forward or backward, and the app tries to capture new portions automatically. The rectangle shows a green outline with a green dot when the program can match up a scene within its abilities. The app beeps when you pan to an area that it can add to the existing panorama, at which point, if you hold still, the app snaps a shot by itself. If it's a little off kilter, the rectangle and dot are yellow, and you can tap to force a capture. The rectangle and dot turn red when the system can't figure out how to put the current center of the camera's gaze into the overall image.
The algorithm relies on identifiable features, and if you're taking shots in an area with a lot of motion or with a bland or smooth appearance, you may wind up frustrated as a lot of yellow and red rectangles appear, instead of green. The app provides good feedback when things are going right and some advice when you're outside its parameters. (Remember to flip your mute switch off to hear the beeps if you routinely mute your iPhone, iPod touch, or iPad.)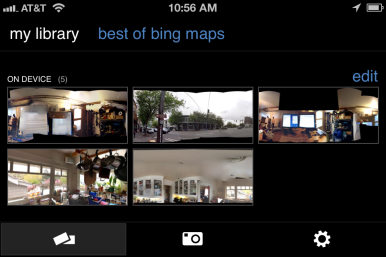 The results don't allow tweaking, such as in Panoramatic 360, an app which is no longer in development, but had a variety of options for improving stitching. Whatever the Photosynth algorithm comes up with is what you get, and in testing that's typically just fine, especially relative to the ease of capture.
When you tap Done, the app shows a preview of all the frames captured, and rapidly stitches them together (at least on an iPhone 4S). The description and other data associated with the image can be edited while stitching is in progress, which is a nice multi-tasking touch other apps could learn from. The resulting image may then be shared, emailed, or saved to the Camera Roll. Panoramas remain in the app's local library, where you can share or edit them later.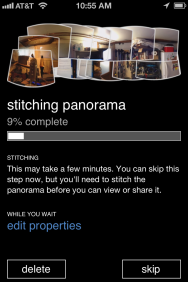 You can sign into Windows Live and create a Photosynth account by just choosing a user name, which allows the app to upload panoramic synths. Those uploaded synths can be added to the site's public index and browser and are also available as a link in Bing maps from a geographic point you set. Synths can be kept private by obscurity, with the software generating a non-searchable link you can share.
Photosynth lets you post to Facebook and Twitter by linking in accounts. With a Twitter account registered in iOS, the app pops up a simple dialog. If the Facebook app is installed, Photosynth switches to it to let you choose to approve its link-up. The Windows Live sign-in is rather rough. The app brings up a Web-page sheet, but doesn't allow the paste option to work in the password field. It's a bug, rather than a feature, as tapping in the field brings up a keyboard, and tapping again to get the copy-and-paste pop-over makes the keyboard disappear. This is a known issue and Microsoft indicates it will be fixed.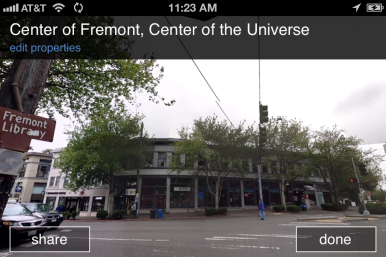 I love making panoramas because it gives me a more expansive memory of a place I've visited. The ease with which Photosynth lets me capture those places makes it more likely that I will take 360-degree views to aid my memory long after I've returned from a trip.
[Glenn Fleishman, a senior contributor to Macworld, writes regularly about wireless networking and encryption, but has a lifelong love of photography.]