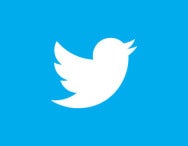 After Twitter announced some tough new rules for third-party developers last week, it remains unclear precisely what those changes might mean for the future of your favorite third-party Twitter client.
While the rule changes don't ban third-party Twitter apps outright, they do set forth tough caps on any new such clients, which must max out at 100,000 users unless they receive special permission from Twitter. Existing apps can continue to function, and instead face a cap of precisely double their current user bases as of last week. Other new policies Twitter outlined include sharper limits on what functionality apps can offer, how tweets must be displayed, and what actions can be linked to those tweets.
Macworld has spoken with several developers behind third-party Twitter apps—or at least, we've tried. Some developers are notably hesitant to speak on the record, lest they incur Twitter's wrath; the fear seems to be that since Twitter is now exerting more control than ever over access to its API—which developers leverage to make their Twitter apps work—that irking Twitter too much might result in a developer's API access getting revoked.
We also contacted Twitter for this article; the company has not responded.
It's possible that Twitter's developer crackdown will be a boon to upstart competitors like App.net, a paid service that aims to offer a microblogging platform free from advertisements and developer limitations of the sort that Twitter has put forth. But should Twitter devotees who use and enjoy existing third-party clients be concerned that their favorite apps will be forced to shutter their virtual doors?
The future soon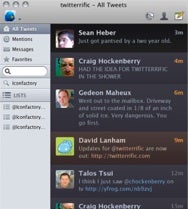 Macworld asked The Iconfactory's Craig Hockenberry about what the future holds for his company's Mac and iOS Twitter client, Twitterrific. "Wish we knew," he replied. The good news for Twitterrific, Hockenberry said, is that "since we've been around for awhile, our user token cap is pretty high," meaning there's no immediate danger that the app will run out of users it can support. "But as with any limited resource, there will be time in the future where we hit the cap. It will likely take many years for that to happen, but when it does we'll have to stop selling the app."
Some users are concerned that the artificial growth limits now mandated by Twitter could mean that companies like The Iconfactory might, by necessity, stop supporting their apps in the long term; it could be hard to justify investing further time and funds into innovating and improving apps that now face limits on just how many people they can reach.
"We've been working on an update for the past six months and are happy that we're going to be able to ship that work," Hockenberry said, adding that the company had been concerned that Twitter might have simply shut off API access entirely for third-party developers. But after releasing the already in-progress update, he says, "we'll have to look at how many new users we get before deciding how much of a future it has."
Would The Iconfactory test the App.net waters? "We already are," Hockenberry said, since "the best way to learn about a new service is to start using it." He pointed out that he already has as an account there, and mentioned that The Iconfactory is " one of the first companies to have an account" there, too. The company's early verdict, according to Hockenberry: "We love what we see and are impressed with how much progress has been made in such a short time. It reminds me a lot of Twitter in the early days."
Time to press the panic button?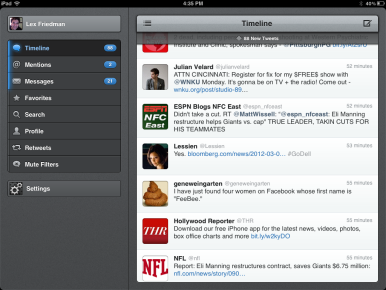 Paul Haddad is the lead developer for Tapbots, the company behind the popular Tweetbot app. In a blog post titled "Don't Panic," he wrote that "Tweetbot for Mac is coming out soon, Tweetbot for iOS isn't going anywhere." As with The Iconfactory, Haddad writes that Tweetbot's user cap number is "pretty huge," and that he expects it will be "a few years" until the company hits that wall.
He adds that "all our current users will be fine" even if the company eventually hits its cap.
Of course, if Twitter makes significant changes to its API that require heavy development work, companies like Tapbots may find it harder to justify the costs involved in issuing the needed updates to a maxed-out user base, unless they resort to options like in-app purchases to pay for the new development that would previously have been supported by new users.
Haddad makes passing reference to Twitter's new display requirements for third-party apps, writing that Tapbots will "be working with Twitter over the next six months to make sure we comply." What changes Twitter may require of the app aren't yet known.
But Haddad promises that "the beta of Tweetbot for Mac will be coming soon, shortly followed by the final release in the Mac App Store. All three versions of Tweetbot [iPad, iPhone, and Mac] are based on the same low level code base, so once [the Mac App Store version is] out, we expect to continue to add new and exciting features to all three apps." Regarding App.net, Haddad told Macworld: "We plan to keep an eye on it, but haven't made any firm plans" thus far.
Hockenberry agrees with Tapbots's "Don't panic" message "in the short-term," but adds that "it's the long-term that should concern Twitter users. Third-party apps will atrophy and eventually the only option for users will be the official apps. For some apps, it's already happened; for others it will take many years. But in the end, Twitter will get what it needs."
Andrew Stone of Stone Design, the company behind Twittelator Neue, told Macworld that "our pro users swear by the app, so they'll be happy that Twitter has provided a way for us to keep going for a while." He points out that "it's Twitter's playground, so we have to play by their rules… I'm thrilled they are moving the API forward, and it will no doubt create more opportunity for the agile independent developers who helped build the Twitter ecosphere."
"We were there at the beginning and we're going to ride this wave out," Stone added.
Trying to understand
One developer of a different third-party Twitter app told Macworld on condition of anonymity that he's "confused but still maybe stupidly optimistic" by Twitter's latest moves with its API. His confusion stems from the fact that "third party clients are a really small niche, but with an important user base that Twitter is incapable of satisfying with their own apps." The developer can't figure out Twitter's goal in instituting the new API rules, doubting that "it's a function of money," pointing out that Twitter could—like App.net—have "client developers pay for API access. Or they could pull an Instapaper and offer Pro accounts, letting those users use third party clients. Those users have already proven they're willing to pay for a different experience."
Explaining his optimism, the developer referenced existing developers' ability to double their user bases, and highlighting the fact that "Twitter left the door open" for developers by saying that, once they hit their user caps, they would need explicit permission from the company. That's better than saying that once you hit the cap, you're entirely out of luck—though Twitter hasn't said under what circumstances, if any, it would grant third-party developers increases in those user caps.
"I don't know what the end-game is, and I'm not sure [Twitter does] either," the developer said. "We've all known for a while they don't want third party clients; I'd love to know why."
So far, though, Twitter isn't saying.