Skype on Tuesday announced that it added the ability to send and receive photos in the new version 4.1 of its iPhone and iPad apps. According to the Skype blog, photo sharing for iOS was "a frequently requested feature."
Without photo sharing, Skype iOS users had to turn to email, MMS, or some other upload/download method to send photos to each other. There is no file size limit with Skype's photo sharing, so you don't have to worry about email file size limitations or extra MMS charges. However, if you are using Skype over your mobile provider's service, then the data will count against your monthly cap, if you have one.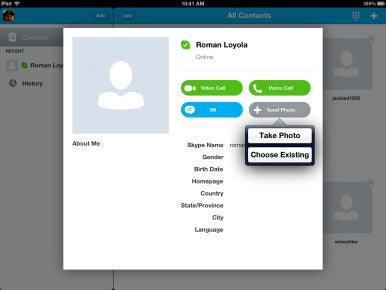 Photo sharing works using Skype's IM function. When you tap on a contact, you'll find a handy new Send Photo button, which lets you quickly transfer a photo without having to initiate a conversation.
To transfer a photo during an IM conversation, tap the phone handset icon in the upper right corner of the app. You'll find a new Send Photo button with the previous Video Call and Voice Call buttons.
If you're on a voice or video call, you need to switch to IM while you're on the call to transfer a photo.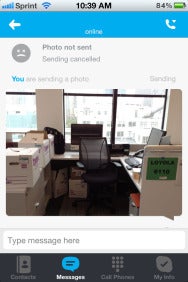 A transfer of a 1.6MB file from an iPhone 4S to a third-generation iPad (both using Wi-Fi) took about a minute. Obviously, file size and the quality of your Internet connection will influence your performance. Files are saved to your iOS device's Photos library.
Skype made several other improvements to its iOS apps. The privacy settings were updated, and a bug with Bluetooth was fixed. The company also says it made "visual improvements" to the apps, and increased performance and battery life.