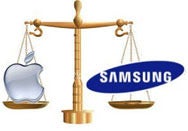 Jurors hearing arguments between Apple and Samsung have been warned not to accept software updates or install apps on mobile gadgets they receive while deliberating the merits of the patent-infringement case.
The case, which has been in front of the jury since the beginning of August, revolves around several questions of design—both physical design of the device and on-screen design of items like icons—so it's important that any updates to the phones and tablets don't alter their look and appearance.
"The physical devices you received are evidence in this trial," said U.S. District Court Judge Lucy Koh as she read instructions to the jury. "You may use them in your deliberations, and may connect to the Internet through the Web browser application, but must not alter or modify the devices in any way." Koh said jurors are not allowed to insert SIM cards into the devices, if included with the packaging, but may connect to the court's Wi-Fi network to access the Internet.
"Once connected, you must decline any software update notifications that may be presented to you. You also must not download any content, such as apps, music, photographs, or games, to the devices," said Koh.
The printed version of the jury instructions includes sample screens from Android phones showing the alerts typical when a system update is offered. "If you see such a screen, you must decline the request to update the system. Select 'Install later' or press the 'home' or 'back' button to exit the notification screen," Koh said.
The final jury instructions run to 109 pages, the majority of which deal with issues of specific concern to the case. Koh, calling it the legal equivalent of baseball's seventh-inning stretch, planned to have the court occasionally stand in a bid to stave off sleep as the jury heard the mammoth set of instructions.
"I need everyone to stay conscious during the reading of instructions, including myself, so we're going to stand up occasionally to make sure the blood is still flowing," Koh said Tuesday, ahead of what is expected to be the final day of arguments in the closely watched case.
The first third of the instructions deal with issues common to many civil cases, such as the jury's duty to deliberate and how it should communicate questions with the court. Then there's around 20 pages each of instructions on utility and design patents. There's an equally long section on trade dress—the argument over the look and feel of devices and their packaging—and sections on willfulness and anti-trust.
Jurors have sat through hours of testimony from both sides and some members have occasionally looked less than riveted during dry arguments on patent specifics.
Jury deliberation is scheduled to begin as soon as the closing arguments are done and instructions have been read. Speaking earlier Tuesday, Koh said she thought it unlikely the jury would get down to deliberating Tuesday.