A new iPad app for novice designers has arrived on the scene. With Quark DesignPad, the company that has traditionally catered to the professional sector of the design world has debuted a mobile consumer product that gives new designers and students an entrée into grid-based layouts.
The free Quark DesignPad, which you control with a fingertip or stylus, lets you get started quickly in prototyping designs. The app offers an intiutive way to get started with a design, and then share it via email or Twitter, or further refine it in QuarkXPress. You do not have to own QuarkXPress to use DesignPad, but the app will assist professional designers too in executing and sharing quick mockups on-the-go.
Starting a design
When you fire up DesignPad, you're greeted with a clean, unintimidating tableau that offers 11 pre-defined layouts representing popular document types, such as brochure, poster, flyer, display ad, letterhead, and newsletter. Each document has its own structure, which you can change to suit your needs.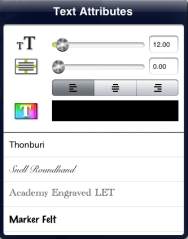 The left-hand menu offers three tabs lining the bottom: Type, Size, and Layout. Size give you options in both U.S. and international measurements. Layout gives you options for setting page characteristics such as margins, horizontal and vertical gaps, rows and columns, text and picture areas, bleeds, horizontal and vertical spans, and more.
Controls on the upper right-hand corner of the document window let you adjust grid visability and add content to your layout. Tapping each of the discrete sections of your design evokes several icons that let you independently adjust discrete parts of the design. Tap each icon to access additional design elements and options via a popover box.
While layouts are accomplished with traditional iPad gestures such as tap and pinch, you can resize and adjust document elements via handy slider bars, if you prefer.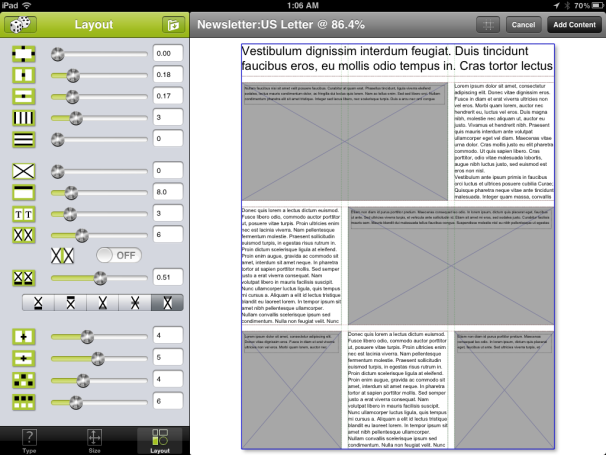 Configuring text and images
Working with text is easy. When you tap a text box, it offers several icons that let you control attributes such as font, alignment, inset, font size, and color. A Box Attributes popover window lets you control color, opacity, and frame width. You can also enter and edit text and assign a tag to the box.
Controls for picture boxes let you place an image from your iPad or a stock photo, which you can obtain directly in the program. A Picture Attributes popover gives you control over image placement and opacity within the box, while box attributes let you edit the color, opacity, frame width, and frame color of the box.
You can change the position and crop of an image or alter the basic layout even further by inserting additional text or picture boxes via the Plus (+) control at the top of the window, or save customized layouts for reuse. You can also place a background image in the layout.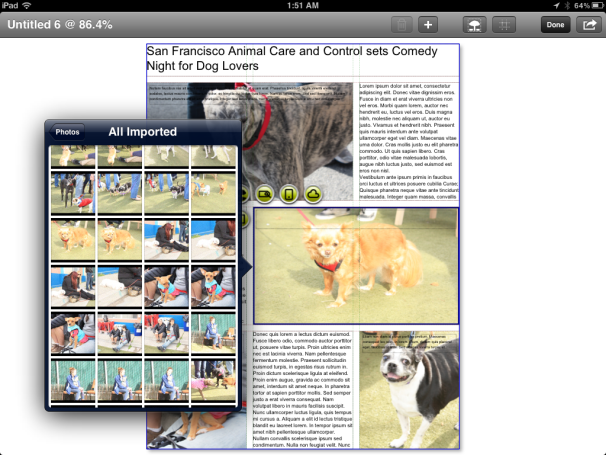 Preview release
Quark is calling this release a preview because the company is encouraging users to try it and provide feedback on how it can be improved, and offer suggestions for additional features. Quark DesignPad works with iPads only, running iOS 4.3 or later.
More information on Quark DesignPad is available on Quark's website.