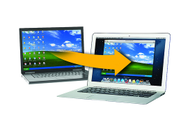 VMware on Thursday morning announced the launch of Fusion 5, the latest generation of the popular and well-reviewed app that enables you to run Windows on your Mac.
The principle new feature is compatibility with OS X Mountain Lion. That compatibility includes support for AirPlay mirroring, meaning you can wirelessly stream Windows applications (as well as Mac apps) to a high-definition television via Apple TV. The update also includes support for the USB 3.0 ports and high-definition Retina display on the new generation of MacBook Pro.
VMware says that the new Fusion also runs faster and offers "seamless" transitions between operating systems, and that it will support the Pro and Enterprise (as well as the standard) editions of the forthcoming Windows 8.
At the same time, VMware is introducing Fusion 5 Professional, which has all of the features of the regular version, plus options that will enable companies to deploy, manage, and support multiple Macs running Windows (including Windows XP and Windows 7) and "more than 200 other operating systems."
Fusion 4 customers who bought that version after July 25 are eligible for a free upgrade to the newest version of the software. Otherwise, Fusion 5 and Fusion 5 Professional are available for $50 and $100, respectively. Existing users of the competing Parallels Desktop software can purchase the pro-level Fusion 5, however, for just $50.
Speaking of Parallels, the company has announced an update of its own: Parallels Desktop 8 for Mac will go on sale on September 4.