Editor's note: The following review is part of Macworld's GemFest 2012 series. Every weekday from mid June through mid August, the Macworld staff will use the Mac Gems blog to briefly cover a favorite free or low-cost program.
If you're the computer geek in the family, chances are you've become the family's go-to for any technical problem. We've all experienced the two-hour phone calls—"No, mom, click the Apple. The APPLE. IN THE UPPER LEFT CORNER."—and constant email back and forth. If you live close by, you may even end up making house calls.
Screen sharing and screencasts are a great way to avoid these lengthy conversations, and Screeny ( Mac App Store link) offers a simple way to help you help your relatives and get on with your life.
Launch the app, and you'll see two windows: a resizable screen capture interface, and a recording widget. The first can be resized to almost any arbitrary size, either focused on an open window or locked to a specific ratio. The widget gives you controls for starting and stopping your recording, taking a still image, switching from screencast to your computer's built-in camera, or adding a picture-in-picture video image to your screencast.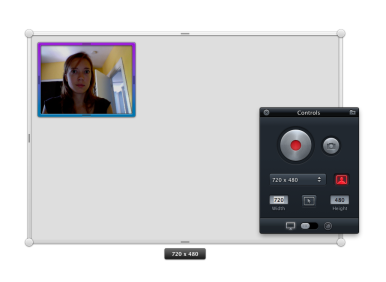 Videos are automatically saved as QuickTime movies (and stills as PNGs) to a preset folder in your home directory, which you can access quickly by clicking the folder icon in the top left corner of the control widget.
Screeny also offers a nice feature for those with poor eyesight or who have a hard time understanding clicks: It can highlight all mouse clicks with a ripple effect. You can additionally set your frame rate (15, 20, 24, 25, 30, and 60 frames per second), and choose whether you should record audio or hide the control widget when recording.
You can use several shortcuts during recording to start and stop the video, snap a still, bring up the controls, turn mouse highlighting on or off, or record audio. Once you're finished recording your video, you can even upload it to CloudApp to instantly share it with your friends and family.
Screeny's major limitations are control-oriented, sadly: The capture window (before you hit record) doesn't let you click through or resize anything underneath it, so you have to pre-stage your desktop (and picture-in-picture window, if you so choose) before framing your shots.
It'd also be nice to export to different formats, set a custom folder for recordings, choose your audio source, and select colors for both the multicolored picture-in-picture window and the mouse clicks. And unlike a more substantial program (say, ScreenFlow), Screeny has no option for you to knit multiple recordings together or dynamically resize the shooting area on the go.
Sure, it's a one-take program. But for basics, Screeny may be just the thing you're looking for.