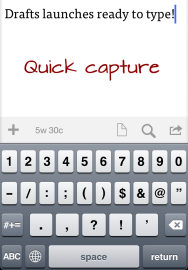 Software developer Agile Tortoise has updated its Drafts note-taking app for iPhone and launched a separate, iPad-only version.
Both Drafts 2.0 for iPhone and Drafts for iPad specialize in letting you quickly jot down notes and then easily share or store them (among other things).
The updated iPhone version includes refinements to the user interface, easy-to-add links, some new font choices, the capability to view notes in full screen (by swiping down on the tool bar), and the capability to append notes to an existing Drafts note in Dropbox. Other improvements include action sounds and integration with additional apps, including Appigo Todo, Writing Kit, and Threadnote. Drafts retains support for Twitter (and several Twitter clients), Messages, Facebook, Dropbox, OmniFocus, Things, Evernote, and several other social-network and text-editing apps and services.
The much-requested iPad version of Drafts offers the same features as the iPhone app with an interface optimized for the iPad's larger screen.
Both versions of Drafts provide support for cross-device syncing of notes, so any note saved on one iOS device is accessible on all others linked to the same account. That syncing requires a free account with the Simperium data service, which also supports Simplenote and which is emerging as an iCloud-alternative for developers.
Drafts 2.0 for iPhone costs $2; Drafts for iPad can be purchased for $3.