Apple's EasyPay service promises Apple Store shoppers a fast way to conduct business at the company's retail outlets, letting them buy items without even talking to a store employee. It's fast and convenient—but one New Jersey teenager claims he got more than he bargained for, after he was accused of trying to walk out of the Apple Store on New York's Fifth Avenue without paying for a pair of headphones.
Eighteen-year-old Eric Shine insists that he did try to pay, using the mobile Apple Store app's EasyPay option on his phone, but that the purchase didn't go through. A New York court will hear his case in October.
However Shine's case pans out, his claims provide an important reminder about EasyPay and its promise of simplified shopping: With great convenience comes great responsibility for making sure that you've followed every step in the process—right down to confirming that your purchase has gone through.
How EasyPay works
Apple introduced EasyPay last November as a way of simplifying its retail experience. The service is tied into the Apple Store mobile app for iOS devices. Using that app and your device's built-in camera, you can scan in products and pay for them with the credit card linked to your Apple ID account.
In keeping with Apple's goals of simplicity and convenience, there aren't many steps to the EasyPay process. When you're in an Apple Store and using the Apple Store app, you'll see the EasyPay option. You scan the barcode of the item you'd like to purchase with your iPhone's camera—that will bring up various details about the product, including its price. Tap the green button with the price to pay. The app will prompt you to provide your Apple ID password. At the end of the process, you'll see a screen like the one to the right, which includes a link to view your receipt.
If the thought of walking into a store, scanning an item, and paying for it with a series of taps without ever talking to a clerk seems a bit too worrisome to you, you can still hail an Apple Store employee to help complete your purchase. Store employees run EasyPay on their devices, too, and they tell you when you're all paid up.
Either option—checking for confirmation screen or getting help from an Apple Store employee might have saved Shine a lot of trouble when he walked into the Fifth Avenue Apple Store earlier this month.
Genius Bar appointment gone wrong
Shine went to the Apple Store on August 20 because his MacBook Pro with Retina Display was acting up—specifically, a problem with the laptop's trackpad. So he booked a Genius Bar appointment for that evening.
Arriving at the store early, Shine told Macworld that he remembered that he "needed a pair of headphones, so I picked up a pair of Bose headphones that I wanted. I scanned the bar code with the Apple Store app, put my phone away, asked an employee for a bag for the headphones, went over to the Genius Bar for my appointment, and when I went to leave the store, they stopped me."
It was an undercover Apple security employee and a store manager who stopped Shine, accusing him of possessing stolen property. "I pulled out my iPhone, and realized it still showed the Pay Now button, and not the receipt," Shine said. "I told them I had no intent of stealing; I've been in the store for an hour, and I'm still willing to purchase the headphones."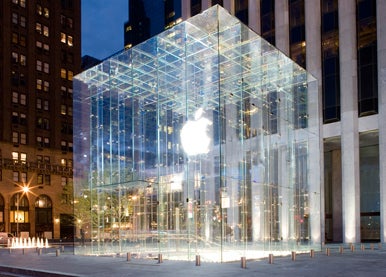 That didn't satisfy the Apple Store staff. "They said, they see this all the time, and that they knew I had the intent to steal, and this was an easy excuse," said Shine, who pointed out to the manager that he had asked for—and received—a bag from an Apple Store employee for the headphones. When you successfully complete a transaction, the Apple Store app clearly states that, to get a bag, "just show a specialist your receipt." Shine says the Apple Store employee he spoke to didn't ask to see his receipt, compounding his own error with the app.
The store manager called the police, who took Shine to a nearby precinct, keeping the 18-year-old college student overnight in a holding cell. That was partly logistical: Shine is from New Jersey, and says that as an out-of-state resident, the legal system's process for ensuring he didn't skip his court date makes things a bit stricter.
Shine says that he was given the chance to accept one day of community service and a class on larceny in exchange for having the charges against him reduced to a petty larceny misdemeanor. He declined—"I didn't try to steal anything," he told Macworld—and will face larceny charges in a court case scheduled for mid-October.
Regardless of how that trial turns out, Shine faces one other consequence for his August 20 visit to the Apple Store: "I'm not ever allowed to step foot back into the Fifth Avenue store," he said. "That is especially annoying, since I have an application to work over there."
He's currently hoping to get the charges dropped. If he's successful, or if he wins his case, he says "I do think pursuing Apple [in a civil suit] is going to happen, because I spent the night in jail. That's ridiculous."
Macworld attempted to get the store's account of the August 20 incident, but the manager at the Fifth Avenue store declined to take our call, instructing an employee to direct us to Apple's public relations team in Cupertino. An Apple spokesperson told Macworld that the company couldn't comment on legal matters.
Understanding the EasyPay approach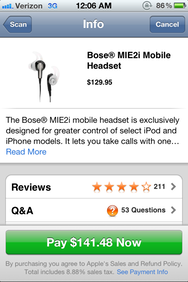 To be fair, customers who've used the service seem to be delighted with EasyPay—at least if our Twitter feed is any indication. We posted a tweet asking users to share their experiences—positive and negative—and our feed lit up with customers singing the praises of EasyPay. Some referenced how it can feel odd to leave the store with a new purchase, without having spoken to a single employee. Some expressed surprise at how EasyPay would seem to facilitate shoplifting.
The only EasyPay complaints we heard about from Macworld's Twitter followers were minor, related to the fact that you can only purchase a single item at a time with the system, instead of multiple products at once. Typical complaints in App Store reviews of the Apple Store app focus on its lack of native iPad support and its failure to include refurbished products in its searches. The primary complaint we saw in the App Store regarding the EasyPay system itself came from Shine, who wrote about his arrest in a review dated August 22.
Some retail experts doubt that Shine's experience with EasyPay would be a common one. "I don't believe that story for a second," said Chris Ciabarra, chief technical officer and co-founder of Revel Systems which makes a point-of-sale system built on the iPad. As with his own app, Revel says that the Apple Store app is "very clear about when you're done—it's very informational. It's really easy to know how to use the app; everyone knows if they've actually paid for it or not."
Shine says that while he'd never used the app before himself, he'd watched others use it. He doesn't know why the transaction didn't complete and blames his own "haste" in putting his phone away before he'd verified that the transaction went through.
Macworld asked Ciabarra how Apple can protect against intentional shoplifting with its user-driven, seemingly honor system-based EasyPay option.
"If you look at the cost analysis, they're gambling that the amount of money leaving the store, versus the amount of money they're saving on needing people in the store checking customers out, works in their favor," Ciabarra said. "Less people means less salaries you have to pay," which saves Apple plenty of money, he said.
Stores with self-checkout options can leverage impressive technology to prevent theft—intentional or otherwise. Ciabarra explains that Apple has "the technology to see what people are putting in their bags, and what items are getting scanned. Every item in the store has been tagged, and if that item hasn't been purchased recently, it will definitely throw off an alert" if you try to leave the store with it. "The technology has advanced for preventing shoplifting. Really good camera systems can detect shoplifting automatically" using visual detection algorithms, Ciabarra explained.
And Shine really shouldn't go back to that Fifth Avenue store, job application or not. "There's facial recognition so that anytime you catch a person [shoplifting], if they come back, it can alert you," Ciabarra said.
Kurt Jetta, the CEO and founder of consumer analytics company TABS Group, told Macworld that when stores add customer-driven point of sale (POS) options like EasyPay, "in general, what happens is that there's a fairly significant surge in sales" at first, due to the novelty of the new system. That's then followed by some "shakeout of people that don't like it for a lot of reasons—user difficulty, user error, and the like." In the end, Jetta says, sales numbers balance out.
Echoing Ciabarra, Jetta pointed out that such systems reduce cost to the retailer, and stores usually see "a significant customer satisfaction uptick" from customers who place value on self-checkout, particularly in terms of customer loyalty.
Like Ciabarra, Jetta says he is "suspicious" of Shine's story. "The assumption," Jetta said, is that if a customer tries to leave the store with unpurchased items, "is operator error or oversight … Apple wouldn't want to make it the norm that they're harassing and jacking up all the people going to the stores. That doesn't help anybody."
One former Apple Store employee we spoke to on condition of anonymity said that the most common attempted abuse he saw of the EasyPay system was customers who would stack "two products on top of each other and … only scan the top one." The former employee told us that store employees "were told to just approach the customer … but never imply theft."
Shine only stands accused of attempting to shoplift the headphones, and he maintains that he was approached immediately and treated as a criminal, never once afforded the benefit of the doubt.
Apple declined our request to talk about how EasyPay security works, saying it wouldn't discuss internal store policies.
EasyPay the easy way
But let's assume that Shine, like you, is a traditional, good-hearted, law-abiding citizen. How might have he avoided losing a night of freedom and facing the more daunting prospect of larceny charges?
If you go the EasyPay route, verify that you can see your receipt within the Apple Store app before you leave the Apple Store. If you're unsure, ask an Apple Store employee to verify that your purchase has gone through before you leave the store. There's also the option of avoiding EasyPay altogether and just turning to an Apple Store clerk to check you out.
For his part, Shine hasn't sworn off EasyPay for good. In fact, it wasn't long after the Fifth Avenue store incident that he was again turning to Apple's mobile checkout system. "The day I got released, I went to the Grand Central Apple Store, because I still wanted those Bose headphones." He again used EasyPay to ring up his purchase.
This time, he checked to make sure the receipt was there—and asked an Apple Store employee to do the same.