This week's roundup of iOS apps will help you find a cup of coffee, get in shape, take notes, and finally discover what happens when pigs fly. And, oh yeah: Neil Diamond makes an appearance.
Already this week, Macworld brought you guides to the best apps featuring celebrity chefs and disaster preparations. We noted the launch of Drafts for iPad, a significant update to Facebook's iOS app, and gave you a hands-on look at the new Quark DesignPad app.
Here are other new and updated apps that caught our eye this week: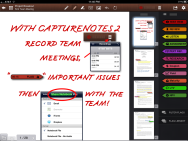 CaptureNotes 2/Projectbook: We really liked the first version of the $1 CaptureNotes note-taking app for iPad when reviewing it earlier this year, saying that it heralded "the golden age of premium note-taking applications." The app still offers great voice recording and note-annotation features, but this week's debut of version 2.0 adds a number of features, including increased options for sharing your notes by letting users export notes to Evernote, iTunes, or Dropbox. You can also now easily share chosen segments of audio recorded while taking notes. The developers have also created a separate "highlight" tool to help users organize their notes, and said that they've also improved the app's performance in handwriting mode. Meanwhile, the $2 Projectbook note-taking app for iPad also saw an update this week with new wireless printing capabilities, the ability to save notes as PDFs or to Dropbox, and many other features.
FitPal: This $2 exercise guidance app for iPhone works by first determining your capacity for exercise. We hadn't realized that the camera on the phone can be used to take your pulse, but that's exactly how FitPal measures your fitness; just place your finger over the camera lens for two minutes while sitting and standing, and the app determines what level of exercise your body can handle. You can also use the app during exercise to check that you're achieving your desired workout intensity.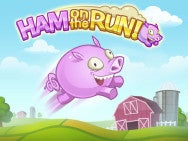 Ham on the Run!: If, instead of exercising, you feel like putting a pig through its paces, then the free Ham on the Run! game for iPhone and iPad may sate your porcine desires. It's a little bit like Tiny Plane, one of our favorite iOS games, only the object is to keep the pig airborne and in motion. There are more than 150 missions to complete; the game is free, but you can improve your odds with in-app purchases of "veggie baskets" that will power your pig to ever greater heights.
Neil Diamond HD: Sweet Caroline! Here's an app that will make you turn on your heartlight: The $5 Neil Diamond HD app for iPad lets you take a closer look—and give a closer listen—to the musician who's been making classic hits for more than 40 years. The app includes 20 of Diamond's songs, plus another hour of recorded commentary by the man himself. There's also a library of his best stage costumes, a slideshow featuring images from throughout his career, and the option to make in-app purchases of the books created for each of his concert tours. Users can share Diamond news via Facebook and Twitter, and the app also features the latest Neil Diamond news. This app is coming to America, today!
Prismatic: It seems like every week brings a new newsreading app, but the free Prismatic app for iPhone has been brewing for a while as a Web-only offering. It's a bit like Zite, in that users plug the app into one of their social networks—Facebook, Twitter, or Google+—to get a personalized news feed based on their apparent preferences. You can refine not only the topics of news that you read, but also the sources of that news, to ensure that you're seeing what you want. Tap on a headline and you'll get a clean text-only version of the story, but you can tap again to see it in its original Web incarnation.
Roamz: This free iPhone app helps you find great places in your neighborhood to eat, drink, and be merry. This week's update includes an overhaul to the user interface, making it easier to search for great nearby eateries, as well as a new suggestion feature that highlights the locations you might enjoy most. Users can now bookmark those locations, and share information about them to Tumblr, Instagram, or their Facebook timeline.
Super PAC: As the 2012 presidential campaign gets into full swing, you'll probably be seeing a lot of election-oriented commercials on your TV. The free Super PAC App acts as the Shazaam of politics: Point your iPhone at the screen to capture a few seconds of audio, and the app ties you into fact-checking services that let you verify whether the claims being made on behalf of candidates are true.
Other apps of note: Angry Birds Space added a new storyline based on the Mars Curiosity lander … Google's Chrome browser for iOS now makes it easier to share webpages via Google+, Facebook, or Twitter … video player Crackle has been redesigned with a new user interface … and Gilt on the Go has been updated with new user access to their Gilt.com shopping queues.