Editor's note: The following review is part of Macworld's GemFest 2012 series. Every weekday from mid June through mid August, the Macworld staff will use the Mac Gems blog to briefly cover a favorite free or low-cost program. Visit the Mac Gems homepage for a list of past Mac Gems.
Due to a production error, we inadvertently published an version of this review written about the 1.0 release of JPEGmini. This review now rates the current 1.3 release of JPEGmini, including the capability, added in version 1.2, to process lower-resolution photos.
If you're like me, you've got a lot of photos stashed on your Mac. And if you've been faithfully snapping away with digital cameras for the better part of a decade as I have, those photos are taking up a lot of space. The arrival of the iPhone and its always-close-at-hand camera is only adding to the capacity crunch.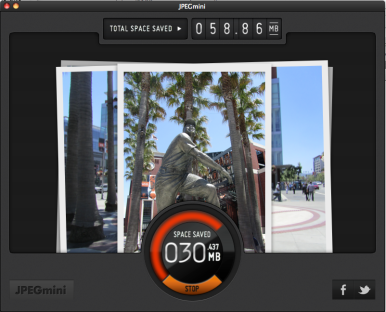 Thank heavens, then, that ICVT has come up with a compelling way to clamp down on your growing photo collection. The developer's JPEGmini app for the Mac ( Mac App Store link) promises to compress your photos, reducing the overall file size without introducing artifacts or otherwise compromising the resolution. And JPEGmini delivers on that promise, producing slimmed-down photos that—to the naked eye, at least—are indistinguishable from their bulkier predecessors.
ICVT offers a detailed account of the technology behind JPEGmini, but the executive summary is that the app has filters that can detect artifacts, like blocking and ringing. When it detects the images are about to be changed, the application stops compression. In a best case scenario, JPEGmini can reduce size of photos by up to five times.
I didn't quite reach that level of compression, but I was able to shrink down my image files considerably. I ran a batch of 25 photos shot with a 14.1-megapixel Canon Powershot SX210 IS through JPEGmini. The application took the 85MB worth of originals and reduced them to 41.2MB—essentially reducing the file size by half. A second test involving 15 photos shot with the iPhone 4's 5-megapixel camera reduced 23.8MB worth of images to 8.7MB. More important, when I laid the compressed photos next to the originals, I wasn't able to spot any differences between the two.
The initial release of JPEGmini came with a rather notable limitation: It wouldn't work with images less than 2 megapixels. If your photo library included photos shot with a low-resolution camera—say, the modest camera built into the iPhone 3G—you'd get a "Skipped All Photos" message when you tried to compress images. That limitation was particularly off-putting to web developers with lower-resolution images who still wanted to squeeze every last megabyte out of their photos to save on bandwidth. Thankfully, version 1.2 of JPEGmini removed that restriction. (The app still caps support at 17-megapixel images.) And the new version works like a charm: I was able to compress 23.5MB of iPhone 3G-shot photos into a 17.6MB file.
It's hard to imagine how using JPEGmini could be any simpler. All you have to do is drag the image—or set of images—you want to compress into the photo window of the application. (It's helpfully marked Drop Photos Here to avoid any confusion.) A warning message lets you know that JPEGmini will overwrite your original photos (you can permanently dismiss that warning if you like), and then the conversion begins. Conversions take a second or two per photo, and a handy progress bar gives you an idea of how long the operation's going to take and how much space you're saving. A running tally of space saved by JPEGmini appears at the top of the application window.
This isn't a tool for professional photographers, but it is ideal if you've got an overflowing photo collection or you're looking to optimize images for a website. JPEGmini is easy to use and will trim your image file sizes without sacrificing quality. A free version of the software lets you optimize 20 photos per day and provides a great way to see if JPEGmini measures up to your needs.