Sony has unveiled the Alpha NEX-5R, a compact mirrorless interchangeable lens camera that will replace the company's Alpha NEX-5N model. It is targeted to the huge market of hobbyists and advanced amateurs now favoring point-and-shoots, smartphone cameras, and entry level DSLRs, as well as advanced DSLR users seeking a smaller and lighter second camera.
The company sees the new NEX-5R as a rival to Nikon's 1 J2 and Canon's Powershot G1 X in terms of photo quality, target audience, and camera build. While it's relatively small and light, it's not not exactly pocketable.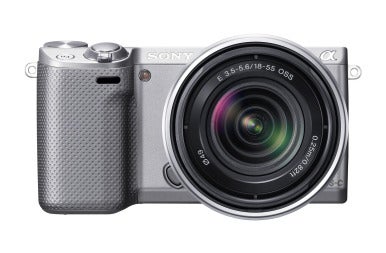 Sporting a 16.1 megapixel, 23.5-by-15.6mm APS-C CMOS sensor and an ISO of 25,600, the NEX-5R is designed to provide better performance in low light than its predecessor and features new lens auto-focus technology. Unlike its predecessor or any other camera in its NEX line, the 5R employs a hybrid auto focus system that pairs contrast detection auto focus with phase detection auto focus. Sony says this feature makes focusing faster and better at tracking moving objects and video shooting.
The NEX-5R, which comes with an 18-55mm f/3.5 – f/5.6 kit lens that includes Sony's Optical SteadyShot stabilization system, is compatible with Sony's 13 E-Mount lenses. With an adapter, shooters can attach Sony's entire slate of 31 additional A-Mount lenses, too. The NEX cameras have a focal length multiplier of 1.5x, meaning that the 18mm-55mm zoom lens has a 27mm-82.5mm field of view in 35mm film equivalent. A tiny detatchable flash is included.
The articulated LCD range has been expanded from an upward tilt of 80 degrees and a downward tilt of 45 degrees to 180 and 50 degrees respectively.
In addition, the camera offers a touch-screen interface, coupled with extra controls on the body of the camera to counter complaints that Sony's touch-screen menus were too hard to navigate. In addition to the added Function (fn) button and other program buttons, for the first time, Sony is including a touch shutter directly on the LCD panel.
On the video side, this camera, like its predecessor, shoots MPEG-4 and AVCHD formats and is capable of recording full 1080p video, including the ability to record at 60p.
Improvements and differences
The NEX-5R is a step beyond the previous NEX-5N model in a number of subtle and incremental ways. While the casings for both models are quite similar—both are the same dimension of 4 3/8-by-2 3/8-by-1 9/16 inches at 7.4 and 7.7 ounces respectively—the main design distinction comes with the NEX-5R's customizable control dial on the top right of the body. You can use this to manually adjust settings. So for example, it will control aperture when the camera is in aperture priority mode. The customizable function Fn key, is used to call up seven commonly used, programmable functions, and you can customize what you want the Fn key to bring up.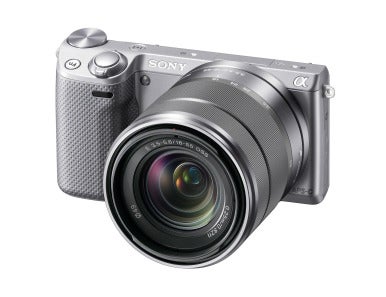 The new model also sports a Superior Auto mode, similar to a feature in Sony's newer Cyber-shot models. This facilitates multi-shot capture modes automatically. For example, if it detects that it's in a dark environment, it will automatically choose to enable a mode like Handheld Twilight, where the camera shoots 6 shots consecutively and then combines them together to create a one-shot composition.
The camera also employs Pixel Super Resolution, a form of pattern-matching technology that is used for features like Sony's Clear Image Zoom and Auto Portrait Framing. Thus, when the camera is extending its zoom digitally (using Clear Image Zoom) or boosting resolution when performing Auto Portrait Framing, it crops the current frame. Pixel Super Resolution then boosts the new images to full resolution using pattern-matching to maintain image detail, tones, and textures in the photo.
A WiFi feature lets you tether the camera to your iOS or Android smart phone so you can upload photos via a WiFi hotspot. You can pair the camera with the phone to share images with social networking websites. A smart remote control wireless trigger lets the shooter control the shutter from any position.
However, with the WiFi advantage comes some downsides in terms of battery life. The NEX-5R battery will last through 330 shots, 100 fewer than the previous model, which did not have WiFi capabilities. Battery life for recorded video also takes a hit—it operates for 100 minutes as opposed to the previous model's 150 minutes, before the battery dies.
All about apps
With the NEX-5R, Sony has also introduced the concept of apps, à la iOS or Android. Camera apps can be downloaded using WiFi or by a wired computer connection. A dedicated Sony app store connected to the Sony Entertainment Network called PlayMemories Camera Apps will be launched in October, on the same day that the NEX-5R is offered for sale. This online will let you download apps directly to the camera to personalize and enhance its features.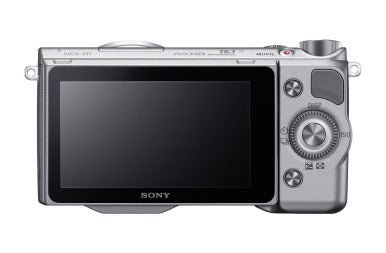 Among the apps included are Picture Effect+, which expands the range of artistic treatments from the camera's standard Picture Effect mode. Bracket Pro automatically shoots a rapid burst of three to four images at different bracketed settings, such as for shutter speed, aperture, or focus, or flash (flash bracket includes four frames). Users can see the effect of setting changes on the three shots and choose which one they want. Multi Frame NR captures a series of images in rapid succession and stitches them together to create a single low-noise photo at a selected ISO speed. It's designed for capturing night scenes or shooting in dark conditions without flash. Photo Retouch adds numerous adjustments like brightness, saturation, and contrast, Soft Skin, re-size, and other effects. Also available is the Auto Portrait Framing feature, which detects the faces in images and applies the recommended composition afterwards.
Future apps include Time-lapse, which automatically captures a series of still pictures at adjustable intervals. These images are automatically combined by the camera, and can be replayed like a video clip. Cinematic Photo captures a series of frames and stitches them together into an animated picture effect where parts of a still appear to move as others remain static. Another app facilitates the wireless transfer of images to Facebook.
The Alpha NEX-5R, which comes in silver, black, or white will be available in mid-October for $750 with the kit lens, and $650 for the camera body only.
Nikon J1 Mirrorless Camera
Sony alpha NEX-5R 16 Megapixel Mirrorless Camera
Canon PowerShot G1 X Compact Camera
Sony alpha NEX-5 Micro Four Third Digital Camera