This week's roundup of iOS gear has a focus on style—heck, even your dock-connector cables can be snazzy. Here are the new accessories we've come across this week.
Audyssey: The $300 Audyssey Wireless Speakers can stream music from your iOS device—or your computer—using a Bluetooth connection. Each speaker includes a tweeter, a three-inch woofer, and a passive bass radiator for rich, deep sound. The compact speakers weigh in at just 7 pounds and come with their own stands.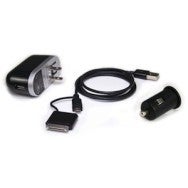 Bracketron: The $40 Universal USB Travel Power Kit is made for iOS users on the move. It comes with a 30-pin USB-to-dock-connector cable to charge up your iPhone, and both a car charger and a wall charger. If you're in the car or staying at a hotel, you'll always be ready to revive the battery on your phone. Also new from Bracketron is the $37 Power Dock Pro for powering your iPhone in the car.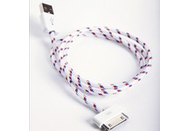 Eastern Collective: Who says your dock-connector cables can't be stylish? Vermont-based Eastern Collective has debuted its line of $14 Collective Cables, each of which encases the syncing cord in colorful, fashion-minded textiles. There are four different color combinations, just the thing to impress your friends when you sync your iPhone with your laptop at the local hipster coffee shop.
Edifier: The $50 Sound To Go Plus is a rechargeable "microspeaker" that lets you boost the audio from your iPhone or iPad. It offers two midrange drivers and two tweeters, all packed into a foot-long shell. You can plug it into your iOS device's audio jack, or tuck it into its own protective carrying pouch when you're on the go. A USB cable, for charging the speaker's battery, is included.
Hex3: The makers of the $90 Jaja stylus say the device is responsive to 1,024 different levels of pressure sensitivity, offering users the ability to create precisely the brush strokes and lines they want while creating digital art. Hex3 says the stylus communicates with your iPad via the tablet's microphone—the stylus itself emits a high-frequency pitch that can't be heard by human ears, but that communicates pressure data to the tablet. One app, Procreate, already offers Jaja support. The stylus ships in September.
Netatmo: Most weather apps for iOS tell you the weather in your general vicinity. The $179 Netatmo Weather Station tells you the weather at your precise location. It comes with two modules—one for inside, the other for outside—that relay the temperature and other conditions to the Netatmo app on your iPhone or iPad. (The outdoor module runs on AAA batteries.) The outdoor module measures humidity, barometric pressure, and CO2 levels, letting you know how to dress when you go outside—or whether it's worth going outside at all.
PowerSkin: The $70 PowerSkin battery case is made to power up and protect the iPhone 4 and 4S. The device includes a 1500mAh rechargeable battery that can extend the talk time of your phone by up to five hours—or allow it to survive in standby mode for up to 200 hours. Just switch the on/off switch on the case's exterior and the juice will start to flow. The case comes in either a matte-black finish or limited-edition titanium.
StarTech: The $30 Long USB Cable solves the problem of (natch) having too-short USB cables. This 10-foot-long cable features a USB plug on one end and a 30-pin dock-connector plug on the other; it's good for both syncing and charging your iOS devices if there's some distance between, say, your iPhone and your computer. The cable comes with a lifetime warranty.
Toddy Gear: It's not often we find a product that combines the functionality of an iPhone kickstand, a pocket square, and a screen-cleaning cloth, but the $15 Wedge performs all of those functions. It's a plush bit of microfiber fabric that can be used to prop up your iPhone, or to wipe its screen clean whenever a bit of dirt or moisture smudges the view. And when not in use, you can tuck the Wedge in your front pocket; it comes in a variety of patterns and styles so you can match it to your clothing.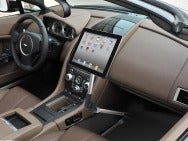 USBFever: One thing about USBFever's product names: You never have to wonder what it is a product is supposed to do. The $80 Dedicated Auto/Truck/Car Mount & Stand For iPad 2/iPad 3, for example, is a late-generation iPad stand secures using the seat bolt of the passenger-side seat—the process takes about three minutes, the company says—so that drivers have full access to and view of their iOS tablet. The tablet itself can swivel 360 degrees to be viewed in either landscape or portrait orientation. If that's too expensive, the $70 Powercup 2.2, which mounts your iPad on a base that fits into the car's cup holder, is also available.
iPad (third generation) family