Parallels on Thursday announced the launch of Parallels Desktop 8 for Mac, the latest generation of its applications that lets users run Windows on Mac computers. Current users can upgrade immediately for $50; new users will have to wait until September 4.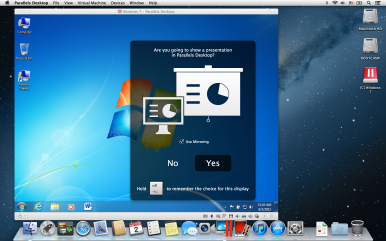 The revamped application has been upgraded with Apple's latest-generation computers and operating system in mind—it supports the high-definition Retina display available on the new MacBook Pro, and it offers a number of features that take advantage of Mountain Lion, including the ability to use the new dictation tool in both Mac and Windows, the addition of Windows notifications in the Mac's Notification Center, the ability to organize Windows apps in Launchpad, and the use of Mountain Lion gestures (such as pinch-to-zoom) in Windows applications.
Parallels said the new offering is also speedier than its previous product, Parallels 7, beating the speeds of the elder product by as much as 30 percent when gaming, and 25 percent when conducting "virtual machine" operations.
Thursday's announcement comes a week after Parallels competitor VMWare launched latest version of its own Windows-on-Mac application, Fusion 5.
Parallels Desktop 8 for Mac is immediately available as an $50 upgrade for existing users of the app. New customers will be able to purchase it—or download a free trial—on September 4, either in the standard $80 version, or in a $40 "Student Edition."
Note: When you purchase something after clicking links in our articles, we may earn a small commission. Read our affiliate link policy for more details.