Reader Caroline Anders finds Calendar's default settings a little inflexible for her tastes. She writes:
I use Calendar on my Mac running Mountain Lion (and used iCal before it) and I find I have to fiddle with events after I create them—changing all-day events to events that last a couple of hours and changing their start times. Is there a better way to create events so I don't have to spend so much time editing them?
There is. First, it's important to understand how Calendar creates events. If you double-click on a date when in Month view, you will create an all-day event by default unless you enter a time or specific event in the New Event field. For example, Meeting with George 3PM or Lunch with Dan. Otherwise you'll have to edit the event if your intention was to create an event that lasts just an hour. If you want just that hour-long event, change to the Week or Day view and then double-click on a time. An hour-long event will be created at the time you chose.
Although a lot of us are accustomed to double-clicking on dates or times to create events, it's worth your while to check out the Create Quick Event feature. Just press Command-N or click on the Plus button at the top of the Calendar window and enter an event along these lines: Lunch tomorrow Dan. Do that, press Return, and a new event with that very title will be created at noon on the following day. Try Dinner tomorrow Dan and an event is created for 8 PM.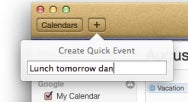 Calendar is smarter than iCal in this regard, but not as smart as Flexibits' $15 Fantastical ( ). With Fantastical you could enter Lunch tomorrow 1 – 3 Jason San Francisco and Fantastical will create an event exactly along those lines, making San Francisco the location. Calendar, on the other hand, will get the time right, but will make San Francisco the name of the event rather than lunch and won't add the location.
If you'd like to change the default alert time for timed events as well as all-day events, you can do that within the Alerts tab of Calendar's preferences. Choose an Account (iCloud, for example) from the Account pop-up menu, and configure the Events and All Day Events pop-up menus. For example, rather than the usual 15-minutes-before default, you can can choose from a number of options including 30 minutes before, 1 hour before, 1 day before, or 2 days before. All-day events are more limited, allowing you to choose On Day of Event (9 AM), 1 Day Before (9 AM), 2 Days Before (9AM), or 1 Week Before.
Updated 3:00 PM to correct information regarding month-view input.
.