Western Digital on Thursday added another drive to the slowly growing list of Thunderbolt storage devices. The new My Book VelociRaptor Duo is the second Thunderbolt drive from WD and a compliment to the My Book Thunderbolt Duo ( ).
As the name implies, the new storage device has a pair of WD's VelociRaptor drive mechanisms, which are faster than the WD Green mechanisms used in the My Book Thunderbolt Duo. The Green mechanism has a self-adjusting rotational speed (what the company calls IntelliPower) to save power and keep the operating temperature at an optimal level. But this can affect performance and how much you can take advantage of Thunderbolt's 10 Gbps connection. With a set 10,000-rpm rotational speed, the VelociRaptor drives are designed with performance in mind, so the My Book VelociRaptor Duo could be significantly faster than the My Book Thunderbolt Duo. (Both the Green and VelociRaptor have SATA 6 Gbps interfaces and 64MB of cache.)
The two 1TB drives in the My Book VelociRaptor Duo can be configured as a RAID 0 that helps with performance, but you don't get data redundancy. You can also configure the drives as a RAID 1 where one drive mirrors the data on the other, but you cut the available amount of storage available from 2TB to 1TB. The device can also be set up as a JBOD, where the two drive appear as two separate storage devices on your Mac's desktop.
The My Book VelociRaptor Duo has a pair of Thunderbolt ports, so it can fit anywhere in a Thunderbolt daisy chain. However, it only has Thunderbolt; there are no FireWire or USB connectors, so you're limited to using the drive only with Thunderbolt-equipped Macs. But before you get too bummed out, know that WD actually includes a Thunderbolt cable with the drive (woo-hoo!). Most other Thunderbolt storage devices do not include a cable, so having a cable included is a nice convenience.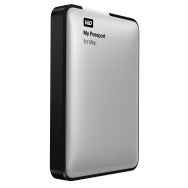 The 2TB My Book VelociRaptor Duo is $900 and comes with a three-year warranty.
Western Digital also announced a new addition to its My Passport for Mac line of portable hard drives. The new drive features a USB 3.0 interface and is available in capacities of 500GB ($100), 1TB ($130), and 2TB ($200).