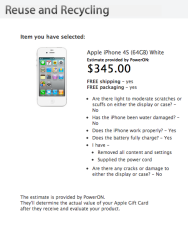 Apple is now buying back used models of its iPhone 4S as part of its Reuse and Recycle Program—a possible harbinger of the unveiling of the company's next-generation iPhone.
Assuming your iPhone 4S is in good condition, Apple will pay you anywhere from $285 for a basic 16 GB model up to $345 for a white 64 GB phone. That payout won't be in cash, however: You'll get a gift card that can be used to buy products—perhaps even the next iPhone model—at both your local and online Apple Stores.
The buyback program was first reported by The Next Web. Although Apple hasn't formally announced a "media event" to unveil the iPhone or any other new product, several media outlets have pegged Sept. 12 as the likely debut of the new model—news that set off a flurry of trade-ins as iPhone owners try to obtain the best price for their used models before buying anew.
Apple's wireless partners are also buying back the iPhone 4S. On Thursday, Verizon was offering $245 in store credit for the basic 16 GB model, while Sprint was offering $253 in company credit for the same. ( AT&T asks users to bring their phones into one of its brick-and-mortar stores before offering an appraisal.)
iPhone 4S users who would rather get cash money for their device will have to turn to third-party resellers. Many such places—among them NextWorth, Gazelle, YouRenew, and CashforiPhones.com—will gladly pay to take your iPhone off your hands, with buyback prices (as of Thursday morning) ranging from YouRenew's $190 to NextWorth's $300 apiece for a basic, uncracked, 16 GB iPhone 4S in good or reasonable condition. (As always with third-party resellers, users might want to do their online homework and check the Better Business Bureau website to ensure they're working with a reputable company.)
Users who wait until the next iPhone is launched may lose some money. Values usually fall as soon as a vendor shows a new model. Last spring, iPad 2 trade-in values dropped 23 percent after Apple unveiled the new iPad.
iPhone 4S family
Price When Reviewed:
$599