Screenwriters and playwrights have waited a long time for an iPad version of Final Draft. Software maker Final Draft first hinted at an iOS version of its popular desktop screenwriting app back in 2010, shortly after the original iPad's release. Now, more than two years later, screenwriters have an official way to work on their Final Draft 8 screenplays from the iPad: Final Draft Writer debuted on the App Store Tuesday. But will the mobile app catch on?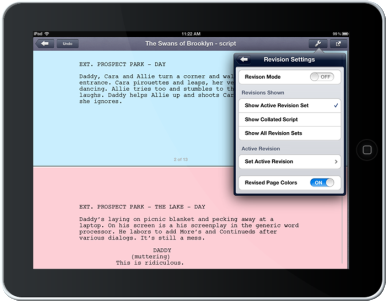 "In my limited testing, it seems promising," screenwriter John August told Macworld. While August may be best-known for his Hollywood career—he wrote Big Fish, The Nines, and the upcoming Frankenweenie—he also helped create FDX Reader, which let writers view their Final Draft 8 screenplays on the iPad. In 2012, he collaborated with FDX Reader programmer Nima Yousefi and industry veteran Stu Maschwitz to create Fountain, a Markdown-inspired syntax for creating and editing screenplays in any text editor; August and Yousefi also put out Highland, an app to convert Final Draft and PDF screenplays into Fountain, and back out again.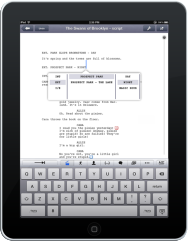 But despite August's personal interest in Fountain, he still sees the need for a mobile version of Final Draft. "Our goal with Fountain is to let you write screenplays in any text editor, including many great apps for iOS… [Final Draft Writer] is a professional app for screenwriters who need specialized production tools like colored revisions and locked A/B pages. That's absolutely worth $30 for writers who need it."
Indeed, though it may not carry over every feature from the full $249 version of Final Draft 8, Writer has quite a few features packed in: You can open any Final Draft 8 script within the app; create new Screenplay, Stageplay, and TV scripts; scan through automatically-paginated screenplays; use Final Draft's SmartType system to automatically fill in character names and scene headings; view cast, scene, and location reports; lock pages; view and switch revisions; and more.
It's unlikely that Final Draft Writer will outright replace the work screenwriters do on a laptop—after all, even with Bluetooth keyboards and iPad cases augmenting the typing experience, it's still less covenient to type on an iOS device than a laptop. That said, Michael Johnathan Smith, writer of Mermates and the upcoming webseries The Common Cult, told Macworld he was very intrigued by Final Draft Writer. "I love the idea of being on set, and quickly making changes to the script right then and there without whipping out a heavy duty laptop—or at least being able to work on a script that's currently on my laptop at home. Definitely useful at table reads, to make changes on the fly while the idea is fresh in my head."
Final Draft is currently on sale for $30, though that will raise to $50 on October 1. "I'm rooting for Final Draft (and Scrivener, and Movie Magic Screenwriter)," August told us, "because I want to make sure there's always a market for high-end professional screenwriting apps. The race to the bottom in software pricing is dangerous."
Updated on 8/31/12 at 8:53 a.m. PT to correct a pricing error with Final Draft 8; we incorrectly stated it was $199; the full version retails for $249.