I recently stumbled over two Safari-related problems. In each case, specific features of a website did not work as expected. While my precise symptoms may be limited in scope, the overall problems are general ones and the solutions apply to a wide variety of similar situations.
Extension prevents Flash video from running
One of my guilty pleasures is the NBC series Smash. I'm especially a fan of the show's music. That's why I was glad to discover that NBC offers video clips showcasing the musical numbers from the series.
Unfortunately, when I attempted to view any of the Smash clips, I got nowhere. The rotating circle that indicates a video is loading just kept rotating, apparently intending to do so forever. No error message appeared. But neither did the video.
As a first diagnostic step, I shifted from Safari to Firefox. The videos played just fine in Firefox. This suggested that the problem was more likely with my installation of Safari than with the NBC website. Returning to Safari, I next checked what extensions I was running. As the videos were Flash-based, I first turned my attention to ClickToFlash.
The ClickToFlash extension prevents Flash videos from automatically loading when you go to a webpage; instead you have to manually click the video to get it to run. While this extension has been a generally reliable performer for me, I suspected it was behind the trouble here. Sure enough, if I disabled the extension, the Smash videos successfully ran in Safari.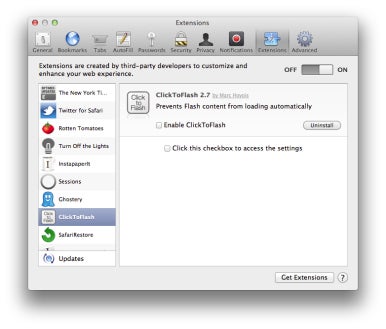 This is just one of an assortment of problems you may have involving videos and Safari extensions. If you suspect other foul play here, you may get help from Apple Support Communities threads such as Safari will not play Youtube videos!!! and ClickToFlash not working.
My general advice is, whenever you have a Safari symptom that does not show up in other browsers, go to Safari -> Preferences -> Extensions and turn the slider switch to Off. If the symptom vanishes, you now know the source of the problem. Turn Extensions back on and begin disabling extensions one at a time, until you locate the culprit.
Cookies setting blocks web page from loading
Last week, when I attempted to load the Bill Pay page of my bank's website, I was surprised to get a 404 error. This has never happened before. The page did not load. Instead, a message appeared that apologized for the error and informed me that my Bill Pay page no longer existed. This was not welcome news.
I called the bank to see if they knew what was going on. Their advice was for me to make sure that I wasn't blocking cookies. My first response was to dismiss this suggestion, as I had not made any recent changes to my cookies settings. The page had loaded just fine the day before, so I saw no reason to think that cookies were behind the current failure.
Regardless, I accepted the bank's advice and checked things out. First, as I had done with the Flash video problem, I shifted from Safari to Firefox. The page loaded just fine in the alternative browser. This was encouraging. At least I knew the page still existed. Now I just needed to convince Safari of this fact.
Returning to Safari, I went to Safari -> Preferences -> Privacy. I confirmed that the "Block cookies" option was set to "From third parties and advertisers." This was the same setting that had been in place for months, even when the page was loading correctly. So I was not optimistic about cookies being the cause of the failure. Still, as a test, I changed the setting to Never. Surprise! The Bill Pay page now loaded in Safari. Even stranger, when I reverted back to "From third parties and advertisers," the page continued to load correctly—and has done so ever since. The cookies setting was the cause of the 404 error after all!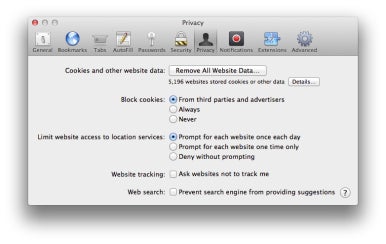 As far as I can determine, Safari was behaving as if "Block cookies" was set to Always, even though that was not the setting indicated in Preferences. Temporarily changing the setting apparently got the glitch to correct itself. Indeed, I have since read of other instances of "spontaneous" shifts in cookies settings in Safari—although usually without the mismatch between the actual and displayed setting.
My general advice here is to check Safari's cookies settings whenever a webpage unexpectedly refuses to load. To test whether cookies are behind the error, set "Block cookies" to Never—at least temporarily. If simply enabling cookies does not resolve the issue, you may need to delete the cookies for the entire site. To do so, click the Details button from the Privacy screen, search for the site's cookies item(s) and click to Remove.