Audio can be the most important part of your movie, and bad audio can ruin the cinematic experience for viewers. Background noise, low sound, or obtrusive music can all make your film or video unwatchable, even if it's shot beautifully.
Simple audio editing and mixing can help make your project sound more professional. Fortunately, iMovie '11 has excellent and easy-to-use audio tools, and makes it simple to drop in high-quality music and sound effects.
Until recently, if you had bad or uncontrollable audio, the software needed to fix it and remix your sound was often expensive and complex. Today, popular non-linear editing software from iMovie '11 to Final Cut Pro X, come with powerful and easy-to-use audio editing, mixing, and sweetening tools. You don't need a degree in sound technology to use it. So let's get started.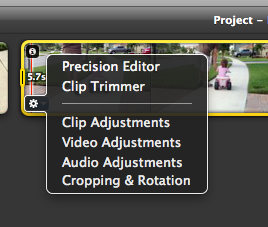 Open the Inspector to adjust audio. Select the clip, and a gear icon pops up. Click it and a dropdown menu appears; select Audio Adjustments.
Enhancing the audio can be important if there's a lot of background noise. Think about your baby is saying her first words while the TV is playing in the background.
In iMovie '11, all you have to do is check the Reduce background noise by: box, and then adjust the slider until the background noise is low and the main audio is clear.
Sometimes if you adjust too much, your main audio will start to sound tinny, so if that happens, back off on the slider until the audio sounds more natural.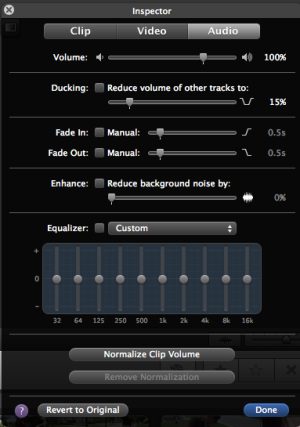 The Equalizer has several options, including Flat, Voice Enhance, Music Enhance, Hum Reduction, and more. You can also select Custom to manually adjust the settings of lows, midtones, and highs. Click Normalize Clip Volume, and iMovie '11 will handle some of the adjustments for you, but it's best to tweak the audio settings yourself. You can also test the iMovie '11 Equalizer settings and tweak them. If you want to go back to the original settings and sound, click Revert to Original.
Adding music and sound effects is a great way to to make your movie sound more professional or fun. Click on the Music icon on the toolbar below the main viewer window, and the Music and Sound Effects browser will open. Here, you have access to iMovie sound effects, music you may have composed in Garageband, and your iTunes account. You can search by name (song, artist, album) for the sound effect or tune your're looking for.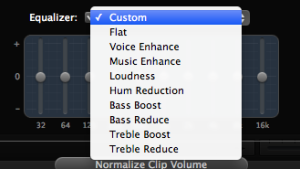 Once you've made your selection, drag it to the timeline in the upper left-hand corner, and drop it on the clip where you'd like it to start. It appears in a green strip underneath the clip. To adjust the audio, click on it and select the gear and then choose Audio Adjustments. The inspector will open and you can make your sound adjustments there. If you need to adjust the sound clip itself, select Click Trimmer, and it will open below to trim the length of the song or sound effect.
When it comes to dropping in music, unless it's for a music video and the song needs to play at a normal level, you'll want to keep the levels lower so they don't affect the sound of people speaking. The ducking function can help with this, but it's better to keep the audio low while people talk, especially if you're cutting together a film. If your audience can't hear the dialogue over the music, they'll tune out. You can also add a fade in and out to help bring in a song softly.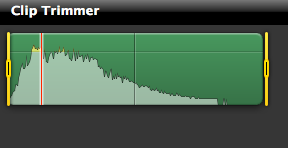 iMovie '11 makes it very easy to fix your audio and it will intelligently fix background noise, which is always an issue at a children's birthday party or if you're shooting outside with traffic sounds nearby. Adjusting audio isn't as much fun as cutting the video of your film or video project in iMovie '11, but it's important, because you don't want the distraction of divergent audio levels between shots. Beyond that, adding music can help make the video look even more professional, and watchable, while sound effects can add that extra kick to the presentation.