PhotoDirector 4, a previously Windows-only photo management and editing tool from CyberLink, is making its debut on the Mac. The announcement was made at the Photokina photography show in Germany.
While Mac users generally gravitate toward Apple's iPhoto or Aperture, Adobe's Photoshop Elements or Lightroom, or even Corel's new AfterShot Pro, this newcomer offers a wide range of consumer and hobbyist-oriented features and special effects. The program's photo editing and management features are also designed to appeal to professional photographers. As a total workflow, it offers a spectrum of non-destructive adjustment tools and editing controls and a way to showcase photos.
Editing and management
PhotoDirector 4 operates from a single window—or full screen—and lets you import images from any folder on your hard drive. This window is chock full of tabs and controls, but the interface is coherent and easy to navigate. The main menu contains five major sections: Library, Adjustment, Edit, Slideshow, and Print. Some of those sections have tabbed subsections on the left side of the image window from which numerous easy-to-use controls are immediately available.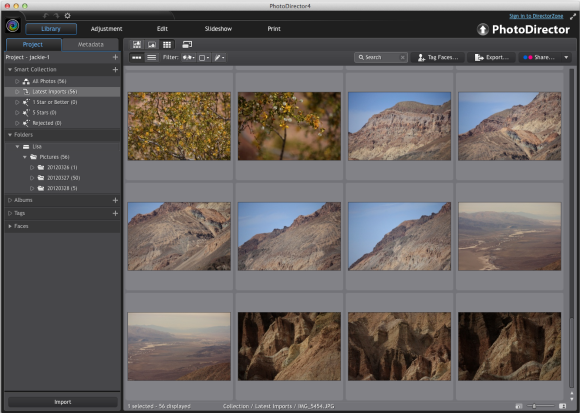 The Library section gives you access to the project and metadata tabs. In the project tab, you can view all the photos you imported into albums, tags you attached to photos, and faces. The metadata tab lets you access or create the usual stats, such as EXIF, IPTC, and tags.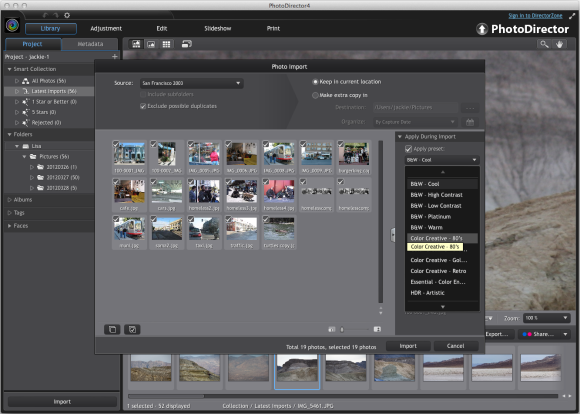 The Adjustment section gives you access to both local and global adjustments, including cropping and straightening, resizing, adjustment brushes and selections, gradient masks, and more. A Presets tab contains a large selection of presets that you can use to automatically add drama to your images. I liked that the program specifies how to use the presets—calls out which ones are for scenery and which ones are for people—though of course, you can use anything you want.
The program's Regional Adjustment Tools let you apply adjustments directly to specific areas on the canvas. Global adjustments let you enhance overall color and contrast, reduce noise, and apply additional controls for levels and curves, white balance, and sharpening and gradients. A set of lens correction tools let you adjust Keystone, Fisheye, and vignetting.
The program has numerous flavors of HDR presets, lens corrections, and chromatic aberration controls, letting you correct fringes of color along the boundaries of subjects so your photos look more accurate. The print module lets you set up 9 prints at a time in a variety of paper sizes and settings. A slideshow tool lets you create and share slideshows.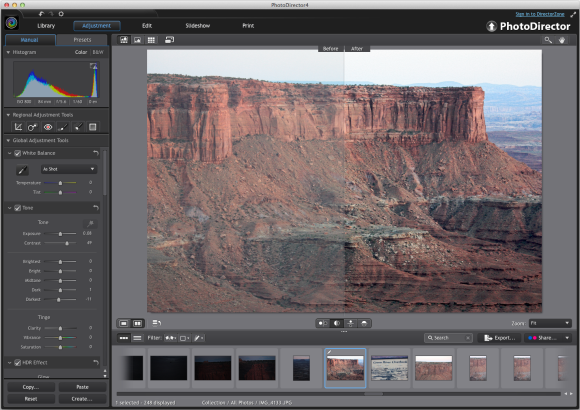 Like many photo apps these days, PhotoDirector has a companion cloud component called DirectorZone. This online user community is a place where you can download assets such as presets to use with the program.
Special features
PhotoDirector 4's face recognition technology lets users identify and tag faces in single photos or batches of photos, which then lets you search for and find photos by a person's name. The program also features Native Raw format support for most popular camera brands. In addition, the program supports 16-bit color for extra color depth and control. PhotoDirector 4 lets you organize and apply presets during import so you can automatically set presets to individual or batches of photos.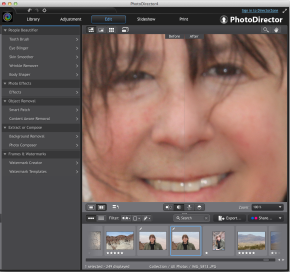 Other advanced editing controls are designed to make people look better. In addition to photo effects, object and background removal, frames, and watermarks, the Edit section has a module called People Beautifier. A people beautifier toolset includes a body shaper, skin smoother, wrinkle remover, tooth brush, and eye blinger (to whiten the whites of eyes).
Advanced editing features also include Content Aware Removal (reminiscent of the Adobe Photoshop feature, but with a different algorithm for seeing behind objects). The program also lets you patch, extract objects, and apply colored tints and effects on your photos.
The program was quick and responsive on my iMac: A 1.9GB folder with 390 photos in it took just a few seconds to import into the program. Click a preset, and you see the effects applied almost immediately.
Availability and pricing
On the Windows platform, PhotoDirector is part of a suite that includes ColorDirector, VideoDirector, and AudioDirector. While CyberLink does have plans for moving the entire suite to the Mac, no timetable has yet been released.
PhotoDirector 4 (called PhotoDirector 4 Ultra because both Mac and Windows programs are bundled onto one disc) is available now for $99. It works on 64-bit Intel Macs and is compatible with OS 10.6.8 or higher.